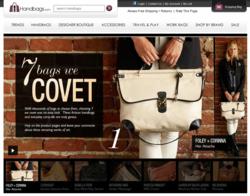 San Francisco, Calif. (PRWEB) October 11, 2011
Fluid, the digital shopping innovator, is collaborating with eBags.com to define the next generation of "social shopping," which launched recently on Handbags.com, the latest website from eBags.com. Social shopping facilitates social interactions while shopping online – for example by inviting friends to offer opinions and suggestions on which products to buy when faced with many great choices.
eBags.com Chief Marketing Officer, Chris Wilson, offered a preview of some of the advanced social shopping features that were designed for its new Handbags.com website at the recent Shop.org Annual Summit. Developed in conjunction with Fluid, the advanced social shopping experience extends best practices in social commerce and leverages Facebook features for interacting with friends and family, directly on the Handbags.com website. The social shopping feature keeps shoppers focused on the products they're considering, and displays conversations with select friends about the handbags alongside.
"When we wanted to supplement our in-house expertise and take social commerce to the next level for handbags.com, Fluid was the obvious choice to partner with," said Chris Wilson. "They've been a great partner and together I think we've innovated in a way that will excite our customers and build the business."
Handbags.com showcases the state of the art in social shopping
Handbags.com is one of the most extensive implementations of social networking features available today on a single ecommerce website. It enables a highly effective social experience without taking customers out of their shopping experience. Features on the new website include:

Easily share lists via Facebook to engage as many friends as possible, and to see which products are preferred by them (by tracking likes, shares, etc. — just as if they were voting).
Extensive use of best practices in social design to personalize and engage with friends within a customer's "List" (via Facebook sharing, sending, posting, commenting, liking and recommending).
Track conversations about each product as separate comment threads to easily understand what friends and family have said about each product, and to see how many times they have liked and/or shared a product's details.
Integration of common Facebook plugins within product detail pages to keep up with the latest conversations around a product, and to personalize the number of product "Likes" via the Facepile social plugin.
Extend the conversation beyond comments — making it possible for friends and family to suggest alternate products and maintain separate comment threads, likes, and shares about those recommended products.
"Just as in the real world, shopping with a friend for a handbag online is a great way to narrow choices, find the right style, and get the instant validation needed to complete a purchase," said Kent Deverell, CEO of Fluid. "Working together with the team at eBags.com, we've been able to integrate powerful social features into enjoyable customer experiences that drive similar shopper engagement and conversion online."
About eBags.com
eBags is the world's leading online retailer of luggage, handbags, business cases, backpacks and accessories for all lifestyles. With almost 13 million bags sold and 2 million unbiased customer reviews, eBags features more than 36,000 products from over 520 brand names such as Vera Bradley, Samsonite, Tumi, JanSport, MICHAEL Michael Kors, Victorinox, kate spade, Fossil, Under Armour and The North Face. eBags is a proud supporter of the fight against breast cancer and donates 10% of the retail price of each Pick Pink product towards breast cancer research, education, screening and treatment. For more information on eBags, please visit http://www.ebags.com.
Fluid: Digital Shopping Innovation
Fluid creates engaging customer experiences that drive conversion, satisfaction and brand loyalty. Fluid delivers these results though custom agency engagements and the Fluid Retail Experience Platform. Founded in 1998 and with offices in San Francisco and New York, Fluid's customers range from mass-market retailers to luxury goods manufacturers, and include top brands such as: Coach, Diapers.com, Nine West, Reebok, Sears, The North Face, and Vans. For more information, visit http://www.fluid.com, and follow us on Twitter @Fluid or Facebook.com/FluidInc.
###