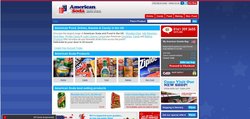 The work Fluid Creativity have carried out both on and offsite has helped us grow our business hugely over the last 12 months
(PRWEB) January 12, 2011
American sweets, food and drinks retailer American Soda have signed three year search engine optimisation and 14 month web development contracts with digital agency Fluid Creativity.
American Soda insisted on long term contracts after a year long successful partnership with Fluid Creativity.
The design and development work carried out by Fluid Creativity has seen American Soda's website conversion rate increase by 27% from 3.6% to 4.6%, a 222% growth in number of products sold and a 108% increase in total transactions.
"The work Fluid Creativity have carried out both on and offsite has helped us grow our business hugely over the last 12 months," said American Soda managing director David Hughes. "We want to build on this success, that's why we're more than comfortable entering into this long term partnership."
Fluid Creativity managing director Lee Turner said: "We're obviously delighted that American Soda are so pleased with the work we have done. We're looking forward to working closely together over the next three years and beyond. This success is testament to the great development and SEO teams we have at Fluid."
Fluid Creativity provide the full spectrum of digital services, including web and graphic design, development and online marketing.
###