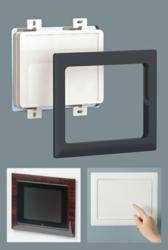 Bridgeville, PA (PRWEB) March 26, 2013
OKW has extended its unique interface-terminal plastic enclosures range with new accessory kits that allow them to be fitted flush in walls or control panels.
It follows increased demand for specialized electronics enclosures for luxury homes, museums, hospitals, government buildings, military installations, factories and laboratories.
The new wall/panel installation kits consist of four holding brackets which are fitted to the rear of the enclosure and are used to mount the assembly in the wall/panel aperture.
A flush fitting design frame then snaps on to the holding brackets to give a very attractive and professional appearance, hiding the aperture and assembly screws underneath.
These kits are ideal for applications where there are very high architectural standards – or in historically important buildings where concealing electronic equipment is very important.
To assist with this, OKW offers the installation kits in three options:

off-white to match the standard enclosure color
painted to match the building's color scheme
water transfer printing – such as wood finish – to suit an historic building or traditional office decor.
These installation kits are designed for the basic interface-terminal enclosure configurations which consist of a flat or high bottom part fitted with any of the front panel/cover options.
Interface-terminal is one of OKW's most versatile ranges. They can be used as handheld enclosures – with or without a battery compartment – or for desktop or wall mount enclosure applications.
Their ergonomic design means operators can carry them with them and connect them to docking stations in offices and vehicles for charging and data transfer.
Basic interface-terminal plastic electronics enclosures are available in three standard plan sizes of 5.31" x 7.48", 6.50" x 8.86" and 7.68" x 10.83". Heights vary from 1.04" to 1.83", depending on the bottom/front section configuration selected. Prices start at $25.
In addition to the frame finishes, OKW can also supply interface-terminal as custom enclosures with additional holes for the push-buttons, connectors and displays; RFI shielding and silk-screen printed legends and logos.
OKW Enclosures, Inc, Vice President, Sales, Sean Bailey, said: "The new flush mounting frames take interface-terminal beyond offices and factories and make them ideal for luxury homes, hospitals, museums and historic buildings.
"Designers looking to specify high quality housings for their electronics will benefit from the huge range of custom colors available for the enclosures and new frames."
Features of interface-terminal plastic enclosures:

Extremely versatile enclosure system for mobile, desktop or wall mounted terminals
High quality modern and ergonomic design
Operators can use the electronics as a mobile or a stationary unit
Four standard versions – fixed desktop enclosure, two-part desktop/wall housing, mobile and mobile with station
Optional front panel styles – ABS cover and flat panel, aluminum front panel and glass panel
Designed to be compatible with touchscreens
Optional battery compartment in the top section for five 1.5V AA cells
The top/mobile unit can be mounted to the base vertically or horizontally
Six pole contacts for interconnection between mobile unit and station
Material – ABS (UL 94 HB)
Protection Class – IP54 (cases with cover); IP40 (cases with aluminum panel)
Standard Colors – Off-white, RAL 9002
Accessories – panel mounting kit, wall suspension element, anodized aluminum front panel, IP54 sealing gasket, six pole male/female contacts.
For more information about OKW electronics and instrument enclosures, view the OKW website or contact OKW Enclosures, Inc, Vice President, Sales, Sean Bailey, Tel: 800-965-9872.
-Ends-
Notes for Editors
OKW ENCLOSURES, INC.
Abele Business Park
3000 Old Pond Road
Bridgeville
PA 15017
USA
Tel. 800-965-9872
Tel. 412-220-9244
Fax. 412-220-9247