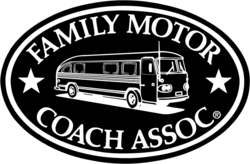 ... we intend to have a true family-oriented get-together for all motorhome enthusiasts to enjoy.
Cincinnati, OH (Vocus/PRWEB) January 12, 2011
FMCA, an international organization for motorhome owners, has announced the dates for its 87th Family Reunion and Motorhome Showcase, to be held at the Indiana State Fairgrounds in Indianapolis, Indiana. The dates for this event will be July 2, 3, 4, and 5, 2012, with family parking days on June 30 and July 1, 2012.
This will be FMCA's first international convention at the Indiana State Fairgrounds and the fourth FMCA international event to be held in Indiana. The last time FMCA met in Indiana was in July 1991, when motorhome owners gathered at the University of Notre Dame in South Bend for the association's 46th convention.
"The Indiana State Fairgrounds will be a wonderful site for members to celebrate Canada Day and Independence Day in 2012. Indiana is known as the Crossroads of America, and we intend to have a true family-oriented get-together for all motorhome enthusiasts to enjoy. This will be a great location to bring families," said Judy Czarsty, FMCA national senior vice president/acting national president.
Approximately 3,000 motorhome families and some 8,000 to 10,000 people are expected to gather for the event. All motorhome owners and members of the general public are invited to participate. Various admission options will be available.
Activities abound at these get-togethers. One of the important elements of these reunions is an exhibition of motorhomes. Major manufacturers and dealers gather to display their vehicles, and motorhome components and accessories also are available for inspection.
A wealth of informative seminars centering on topics of interest to motorhomers — including motorhome chassis maintenance and microwave-convection oven cooking — are held.
In addition, opportunities for taking part in various social events — including morning coffee hour and an ice cream social — present themselves to convention attendees. Organized tours of local sites and attractions also take place. And evenings are filled with entertainment presented by nationally known performers, as well as other social activities.
Prior to the gathering in Indianapolis in 2012, FMCA will host two reunions, the first at the Georgia National Fairgrounds & Agricenter in Perry, Georgia, March 14-17, 2011. For this event, a special invitation has been extended to owners of towable RVs as well.
The Alliant Energy Center in Madison, Wisconsin, will be the location for the reunion that will take place August 10 to 13, 2011.
To register for the upcoming event in Georgia, or for additional information about FMCA's family reunions and motorhome showcase events, visit FMCA.com or call (513) 474-3622 or (800) 543-3622.
ABOUT FAMILY MOTOR COACH ASSOCIATION • Enhancing The Motorhome Lifestyle
Family Motor Coach Association (FMCA) is an international organization for families who own and enjoy the use of self-contained, motorized recreation vehicles known as motorhomes. The association maintains its national headquarters in Cincinnati, Ohio, and currently has approximately 100,000 active member families. FMCA offers its members a number of benefits, including a subscription to its monthly magazine, Family Motor Coaching; an emergency medical evacuation program; trip routing; mail forwarding; and group rates on an emergency roadside assistance program. Perhaps the most important benefit of FMCA membership is the camaraderie and friendships that develop among people enjoying the common interest of motorhome travel and recreation.
###