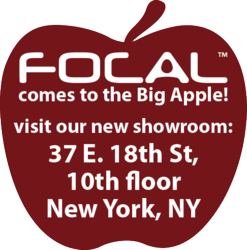 "An entirely new class of product." – Fast Company
New York, NY (PRWEB) March 26, 2013
Focal Upright Furniture is pleased to announce a Union Square showroom in Manhattan for customers to see its Locus Standing Desk and Seat.
Launched in 2012, Focal Upright Furniture's Locus Workstation won the Attendees' Choice Award at the National Ergonomic Conference and Exhibition.
Designed by Martin Keen, the founder of Keen Footwear, the Focal Locus Seat is revolutionizing the way people work. Its unique design splits the difference between sitting and standing. The seat is complemented by the height-adjustable Locus Standing Desk, which uniquely allows users to tilt the desktop surface up to 15 degrees.
Here's what a few publications have to say about the Focal Locus Workstation:
"An entirely new class of product." – Fast Company
"A decade in development, Locus takes the upright desk to a new level through its positional stool-height seat that guarantees a completely neutral posture in between sitting and standing." – Wired Magazine
"It promotes a position between sitting and standing, and allows a great deal of supported upright movement as you work, and helps those who use it remain more attentive to their work." – Inc. Magazine
For more information please visit http://www.focaluprightfurniture.com
Shown by appointment, please contact:
Mark Daly
917-991-6441
mark(at)focaluprightfurniture(dot)com
For media and general inquiries, please contact:
Steve Kirkpatrick
401-694-0153
steve(at)focaluprightfurniture(dot)com