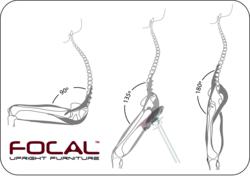 The Locus Seat is a unique and viable option for (the emerging) sit-to-stand paradigm
(PRWEB) March 28, 2013
Focal Upright Announces New Review of Ergonomic Locus Seat for Standing Desks
Humantech's consulting team of Board Certified Professional Ergonomists, the largest in North America, reports, "The Locus Seat is a unique and viable option for (the emerging) sit-to-stand paradigm and may be superior to conventional workstations that allow the worker to alternate between the two postures… The Locus "seat" is not actually "sitting" in a traditional sense." This assessment suggests that the Locus Seat may benefit the increasing number of workers transitioning to standing desks.
A critical advantage of the Locus Seat cited in the Humantech report is that the "perched working posture induced by the Locus Seat is one that orientates the thighs more vertical, therefore decreasing pelvis rotation and, thus, discomfort and pain-inducing lumbar flexion. "
The report goes on to highlight that the "Locus Seat promotes mobility, reduces static loading and is a viable option for sit-to-stand and standing desk users… The pivoting base feature prevents static seated postures compared to traditional office chairs, and increases the accessible reaching work arc."
Humantech highlights the following as design strengths in the Focal Locus Seat:

The design encourages users to stand while working
The seating encourages mobility while seated
The upright posture assumed should reduce low back flexion
The range of adjustability should accommodate most users
The seat is applicable for a variety of workstations, not just the office
The seat's optimal seated posture creates a pyramidal, stable structure
This report confirms many of the reasons professional ergonomists awarded the Focal Upright Locus Seat and Locus Standing Desk the Attendees' Choice Award at the National Ergonomic Conference and Exhibition in December.
To learn more about Focal Upright Furniture, please visit http://www.focaluprightfurniture.com
About Focal Upright Furniture
Founded in 2012, by Martin Keen, who previously founded Keen Footwear, Focal Upright Furniture delivers innovative, body-conscious furniture and other products to help people work better and live better. Focal products can be seen in Arlington, VA, Austin, TX, Boston, MA, Los Gatos, CA, New York, NY, Portland, OR, San Francisco, CA and Tolland, CT.
Steve Kirkpatrick
Focal Upright Furniture
401-694-0153
steve(at)focaluprightfurniture(dot)com