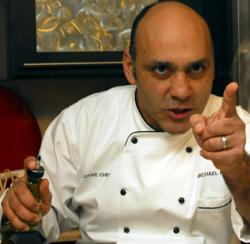 From preventative measure to healing chronic diseases, WIMS finds that food is where to turn first.
Milwaukee, WI (PRWEB) September 27, 2012
In 2009, health care spending in the United States soared over 2 trillion dollars and it is estimated that by 2020 expenditures will exceed 4 trillion dollars. According to the CDC nearly half of all Americans take some type of prescription medication, over two-thirds of American adults are overweight or obese, and a teenager today has a one-in-three chance of developing type II diabetes by the time they are 40 years old. Over 50 percent of adults have a non-communicable, chronic illness, including: cancer, diabetes, heart disease, obesity, inflammatory bowel disease, autoimmune disease or dementia. In Milwaukee, Wisconsin a group of local professionals are saying enough is enough. Celebrity chef Michael Feker and health care providers such as Susan J Riegg, MD; John Whitcomb, MD; Norm Schwartz, MD and Debra Muth, NP are bringing their passion and expertise in a collaborative mission to bring preventative health care to the forefront through the formation of the Wisconsin Integrative Medicine Society (WIMS). The mission of the WIMS is to enhance the public trust in the quality of complementary and alternative health care delivery in Wisconsin.
First, prehistoric medicine incorporated herbalism and spiritual systems; then from Babylonia to China medicine made its breakthrough from hospitals to actual medical treatments; the Black Plague; Edward Jenner's discovery of the small pox vaccine; antibiotics join the scene around 1900; with scientific and technological leaps and bounds the medical world of the 21st century is filled with health care institutions, emergency rooms, surgeons, specialists, radiation oncology, organ transplants, biotechnology and on and on. The Wisconsin Integrative Medicine Society (WIMS) urges the public to get back to the basics, start with preventative measures and incorporate their mind, body and spirit through healthy lifestyle choices.
WIMS, founded by local professionals celebrity chef Michael Feker, Susan J Riegg MD, John Whitcomb MD, Norm Schwartz MD and Debra Muth NP, is about treating the patient, not the disease. Incorporating natural healing with modern medicines and creating a partnership with patients and practitioners, WIMS strives to teach the public how to facilitate the body's innate healing response. From preventative measure to healing chronic diseases, WIMS finds that food is where to turn first.
"The average Western diet is much more limited in variety, and as a result we miss out on the extensive natural pharmacy that is available. Unfortunately, burgers, fries and a diet Coke do not allow us to take advantage of the age reversing properties that a delicious, widely varied diet offers. Each day nutritional scientists are discovering new health-promoting chemicals that are available to us through food," explains Riegg.
"As a nation last year we spent over $300 billion on prescription drugs while we fill our dinner plates with inexpensive processed ingredients that our bodies cannot process," chef Michael Feker passionate states. "In order to have a healthy and peaceful life we need to stop and think about what we are nourishing our bodies with. Pure, unprocessed and unaltered ingredients make all the difference in how our minds, bodies and souls feel and act." Feker is scheduled as keynote speaker at the WIMS Integrative Medicine Conference; Food is Medicine – A Recipe for a Healthy Life, on Saturday, December 1, 2012 at the Country Springs Hotel in Waukesha, Wisconsin.
The United States is a leading innovator in biotechnology, science and medicine; as well as being one of the unhealthiest nations in the world. Standards have far since improved from the dark days of the industrial revolution; however the basic process of taking fresh, raw ingredients from harvest or butcher to a product with a shelf life remains the same. Within this process pure ingredients are infused with preservatives, artificial colors and sweeteners, then packaged, shipped, stored, purchased and finally consumed. WIMS advocates eliminating these unhealthy foods and moving towards pure foods that promote health for mind, body and soul. Raw ingredients contain pure vitamins, minerals and nutrients that, if eating on a regular basis as a part of a healthy and balanced diet, can act to prevent sickness and disease.
Dr. Schwartz shares "Our goal is to work with patients as a partner, using a physiology first approach to treat the fundamental causes of illness rather than the symptomatic consequences. By using natural therapies, lifestyle changes, and nutrition, patients can invoke their innate healing response. The goal of our upcoming health conference will be to inform the public about how food choices can support life, health and healing. Participants will enjoy a delicious, healthy meal prepared under the direction of Chef Michael Feker and learn from experts about a growing body of scientific research that documents how nutritional therapy can be safer, more effective, and less expensive than pharmaceuticals [drugs]. Participants will learn the healing power of diet to prevent and treat chronic conditions such as ADHD, autism, cancer, diabetes, heart disease, Alzheimer's, dementia, and Parkinson's."