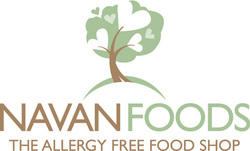 The product cards will help customers answer questions about ingredients and any potential cross-contamination issues.
Virginia Beach, VA (PRWEB) May 10, 2008
A local mother with a multiple food allergic child has created a store built on the concept of removing the challenges of shopping for special diets. Whether due to food allergies or other disorders like Celiac Sprue or Autism, many families are following diets that require the avoidance of certain ingredients such as peanuts, gluten, dairy, and many others. Navan Foods opened its doors to help families like these.
Jennifer Elizondo, founder of Navan Foods, says, "I created this store in an image of what I would want in a grocery store. I shop for a child with food allergies and realized that there was a need for a store like mine. I wanted to create an easy, fast shopping experience where individuals can buy food in confidence."
What separates this store from other grocery or health food stores are the services offered by Navan Foods. Ms. Elizondo developed a detailed questionnaire, sending it to all manufacturers of the food to be carried in her store. The questionnaire asked about ingredients, as well as the manufacturing environment, which can cause a cross-contamination problem for potential allergens if they are present in the facility. The information was then used to create a product card that provides the customer with specific information about each product while shopping. "There have been many times that I have called a manufacturer right from the grocery store aisle," says Ms. Elizondo. "The product cards will help customers answer questions about ingredients and any potential cross-contamination issues."
Navan Foods offers a database where customers can query for food products based on specific ingredients they are avoiding. The database also contains search options to find food for other diets like the Feingold Diet and Vegan diets. There is also an in-store library that contains reference books to help customers if they have questions regarding safe foods or are just looking for a recipe.
Navan Foods officially opened last week and so far has had a warm reception from the community and its customers. The store carries over 600 specially formulated products and will continue to add new products as they become available or are requested by customers.
For additional information, contact Jennifer Elizondo or visit http://www.navanfoods.com.
About Navan Foods
Navan Foods was founded in 2007 with the mission of creating a community resource to assist individuals looking to better their health through safe food choices. The founder, Jennifer Elizondo, created the company based on her experiences shopping for a child with multiple food allergies. The company will be offering online shopping in the near future.
Contact:
Jennifer Elizondo, Founder
Navan Foods
757.965.5422
http://www.navanfoods.com
###