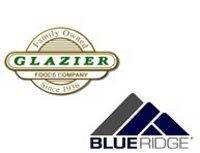 We were looking for a partner with the right software solution and the ability to assure a successful implementation
Marietta, GA (Vocus) November 9, 2010
Blue Ridge, a global leader in profit-driven forecasting and inventory replenishment solutions, announced today that Glazier Foods Company of Houston, Texas has selected CLARITY Replenish from Blue Ridge to optimize fill-rates and inventory levels. Glazier Foods is a leading foodservice supplier serving some 4,300 customers, including restaurants, schools, and sports and entertainment operators, as well as daycare centers, hospitals, and other health care facilities. The company distributes both food and non-food products, as well as foodservice equipment. C.R. "Bob" Glazier started the business in 1936.
The Blue Ridge inventory replenishment solution is already in widespread use in the foodservice and food wholesale industries. Leading companies in the industry utilize Blue Ridge software to reduce inventory 10% or more while reducing stockouts and managing the uniqueness of perishable products to reduce spoilage. "We were looking for a partner with the right software solution and the ability to assure a successful implementation," stated Lance Wilson, Senior Director of Marketing at Glazier. "The Blue Ridge solution and team came highly recommended by the top players in our industry, which made our selection that much easier."
This client acquisition continues the rapid growth of Blue Ridge in the foodservice, grocery and beverage industries. Over the last 2 years, the company has added over a dozen customers in the industry, including 7 of the ID Top 50. Blue Ridge solutions are also in use with prominent wine and spirits distributors, along with grocery 3PLs, wholesalers and retailers in North America and Europe.
Blue Ridge has developed a uniquely complete solution that focuses on the inventory replenishment issues in food and beverage. "The needs of the food industries are unique due to their extremely thin margins and perishable product," stated Greg White, CEO of Blue Ridge, "The vision is to add a full point to the bottom line of these companies with optimized inventory replenishment, forward buys and perishable management solutions."
Glazier has begun the integration process and expects to complete their implementation by the last week in November, culminating with the training of their buyers on the Blue RIdge software and best-practice buying.
"Blue Ridge has demonstrated the true meaning of partnership with the purchasing community not only through the development of their software, but with their dedication to fostering long term educational development for individuals in the field of purchasing," stated Shelley Hoffman, Director of Merchandising at Glazier, "I have full confidence that our implementation will be a true success with Blue Ridge by our side."
About Blue Ridge
Blue Ridge is the leader in next-generation inventory replenishment and demand planning solutions. The Blue Ridge global team believes in the philosophy that selling generates revenue, but buying right generates profit. The Blue Ridge vision is for Replenishment, Freight Optimization, SKU Rationalization and other solutions to provide an Income Statement BreakThrough by adding one full point to the bottom-line of every distribution and retail organization. Over 125 customers worldwide take advantage of Blue Ridge software and education offerings to manage their inventory as an investment that increases cash flow and drives strategic initiatives. The Blue Ridge suite of products implement easily to replace or augment a company's current Demand Forecasting, Replenishment or DRP solutions. The advanced solutions improve inventory management using profit-driven functionality along with today's leading technology. For more information, visit Blue Ridge on the Web at brinv.com
###