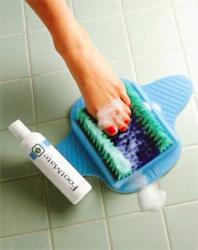 I recently bought my FootMate and my feet have never felt and looked as good as they do now
Cleveland, Ohio (PRWEB) March 29, 2013
The new FootMate® System provides foot massage and cleaning that leaves feet thoroughly cleaned, conditioned, and massaged, including the often neglected areas between the toes. The FootMate brush secures firmly to the walls or floor of a tub or shower, allowing use without having to bend over.
The system combines a contoured brush made of mildew and stain-resistant materials, and our Rejuvenating Gel. The gel is a natural antiseptic, cleanser, and conditioner all in one. Although it is formulated for feet, it is gentle enough to be used as an all-over body wash. The FootMate gel will leave your feet soft and thoroughly cleansed, and features:

Tea Tree Oil, a natural anti-fungal, antiseptic, germicidal and anti-bacterial ingredient that:
decreases occurrences of foot odor
retards susceptibility to athlete's foot
has disinfectent properties for minor cuts / abrasions
aids in good toenail health
Aloe to aid in the healing and repair of skin
Conditioning that will leave your feet feeling soft and supple
Gentle Cleansers made to thoroughly clean while still being gentle on skin
"I recently bought my FootMate and my feet have never felt and looked as good as they do now," says Robert Lawrence.
The foot care system includes the FootMate Brush, one eight-ounce bottle of Rejuvenating Gel, a retrieval rope, and instructions. The brush portion is available in the standard blue or an optional white color.
About Martinson-Nicholls
Martinson-Nicholls, has established itself as a leader in custom anti-slip tape, floor mats, and eco-friendly products for more than 25 years.
Martinson-Nicholls provides the customer with the exact size matting needed--small, large, standard, nonstandard, special shapes and logos. Custom installations are also a specialty of the company.
Anti-slip safety tapes and treads are available in various sizes and textures from hand cut or die cut pieces to full rolls and special shapes. For more information, please visit http://www.floormat.com.