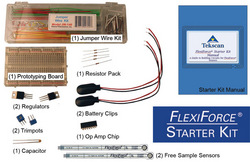 Boston, MA (PRWEB) November 18, 2010
Your force sensing assignment just got easier. Tekscan, Inc. is pleased to announce the release of the FlexiForce® Starter Kit. Geared toward students and hobbyists, as well as the engineer who prefers the convenience of one-stop shopping, the FlexiForce Starter Kit contains all the necessary components to build any of our three recommended circuits, as well as a guide with detailed, step-by-step instructions on how to build the circuits, and, for a limited time, two sample FlexiForce tactile force sensors.
FlexiForce sensors are paper-thin, flexible, and accurate piezoresistive force sensors that are at work in a variety of force sensing applications where they are utilized to:

Detect and measure a relative change in force or applied load
Detect and measure the rate of change in force
Identify force thresholds and trigger appropriate action
Detect contact and/or touch
Available to purchase online for just $99, the FlexiForce Starter Kit by Tekscan is the perfect introduction to tactile force sensing technology.
Order online today, or download a free eBook to learn more about FlexiForce sensor technology.
###