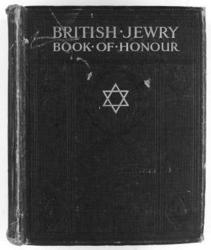 (PRWEB UK) 19 March 2013
Forces War Records has recently transcribed The British Jewry Book of Honour and published its full contents on the website, making thousands of Jewish military service records available for online ancestry searches.
The British Jewry Book of Honour was published in honour of the 50,000 Jews who contributed to British and colonial forces' involvement in World War I. It includes an alphabetical list of Jewish soldiers awarded military honours, and those killed in action. Published in London in 1922, the book is a permanent record of Jewish enlistment, casualties, military honours, Jewish Units, Jewish hospitals and other Jewish institutions and agencies. It also contains the nominal rolls of Jews who served, listed by service and by regiment; indexed photographs of many of these individuals, as well as letters of support and acknowledgement from distinguished men of the day, both Jewish and non-Jewish. The book was originally edited by Reverend Michael Adler who was the first Jewish chaplain to serve in HM Forces.
Forces War Records is the definitive online guide to military ancestry searches and sister site to Forces Reunited, the leading British military community on the web with more than one million members and reuniting veterans since 2001. The British Jewry Book of Honour is exclusive to the Forces War Records Collections List.