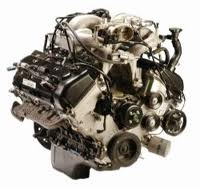 We receive phone calls and emails almost every day from customers around the world that have trouble finding this engine on the secondary engines market.
Atlanta, Georgia (PRWEB) May 19, 2012
Used engines are one way that a vehicle owner can create a new life for their used automobile. Ford engines have a reputation in the auto industry as being tough and dependable. For a used pickup truck or van owner, finding a price lower than MSRP for an engine can be difficult especially when purchasing online. One national company, http://www.usedengines.co, is offering used Ford vehicle owners an opportunity to buy engines at a discount from its website. Shipments of Ford 5.4L V8 Triton engines have been acquired and are now ready for immediate sale to customers in all 50 U.S. states. Due to the amount of engines received, the price is discounted permanently for all future sales. Both existing and new customers now have the opportunity to purchase these discounted 5.4L engines.
Ford has developed some of the most influential engines in the automotive industry. The Ford Mustang 5.0 engine helped to push sales of the Mustang in the early 1990s to levels that were never recognized in Ford's history. Ford has continued its success with engines like the Duratec and Ecoboost. The addition of the Triton V8 engine has been one of the best sellers for Ford since 1997. The Expedition, F-150, F-250 and E-Series vans all make use of this engine. "We are proud to offer this used engine in our Ford engine inventory," said Shawn Jennings, Director of Sales at http://www.usedengines.co. "We receive phone calls and emails almost every day from customers around the world that have trouble finding this engine on the secondary engines market," Jennings added.
The cost of a brand new engine can be as high as purchasing a new car or truck. Insurance companies that handle automobile accident claims often make decisions to scrap vehicles when an engine replacement will exceed the Blue Book value of a vehicle. Drivers that need to purchase an engine typically choose between a used engine or a rebuilt engine. The biggest difference between these two engines is the cost involved. A rebuilt engine requires the application of brand new OEM parts and a trained mechanic to reverse any damage.
This work can add additional expenses to the engine purchase. Purchasing used engines for a discount when they are in good condition can be a cost effective solution. It is not uncommon for a used engine to have less than 50,000 miles on it and be rated for 100,000 or more. The Ford 5.4L Triton V8 engines that are now in stock at UsedEngines.co can be installed in any compatible Ford vehicle without requiring specialized mechanical tools or instruments for completion. A talented mechanic or DIY Ford owner that can follow engine installation instructions can install one these used 5.4L Ford engines.
About UsedEngines.co
As one of the first retailers of used engines on the Internet, UsedEngines.co has grown to have one of America's largest inventories of Ford, Chevy and Dodge engines. An expert staff of engine mechanics reviews all engines that are purchased from various dealers and distributors before sale to customers in the U.S. and Canada. A unique pricing structure of selling engines below MSRP is now helping this engine retailer to increase sales in the first half of 2012. Knowledgeable customer service agents and extended warranties are two additional specialties that http://www.usedengines.co is using to build its company reputation as a used engine dealer.