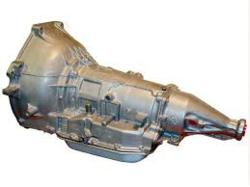 The automatic shifting and overdrive were technologies pioneered by Ford.
Nashville, Tennessee (PRWEB) March 14, 2013
Ford has produced its automatic transmissions for over 30 years. The technology put into these units has separated Ford from other automotive manufacturers. The GotTransmissions.com company is a leading preowned seller of automobile, truck and SUV transmissions online. This company is now selling Ford AX4N transmissions that are used in the majority of Duratec based engine vehicles built from the 1990s to 2001. Details about these transmissions can be read at gottransmissions.com.
Brands like the Taurus, Sable, Continental, Windstar and Freestar use the automatic Ford transmission code AX4N. This was the upgrade to the AXOD-E series that was produced from the mid-1980s to the early 1990s. One of the features with these transmission types is electronic controls that are used. The automatic shifting and overdrive were technologies pioneered by Ford.
The installation of torque converter controls helped this transmission type receive consumer confidence. The new inventory online now sold at a discount price is applicable to all transmission buyers.
The Got Transmissions company has made several upgrades in 2013 to provide a better resource on the Internet for buyers. The installation of hundreds of website pages is now completed. These pages are used to inform and educate buyers before purchase decisions are made.
The accurate information now presented is in response to the stock descriptions that are used by most dealers selling online. This method of informing customers before the sale is helping expand the company revenues this year. The installation of the company price delivery system is another measure taken place this year.
A new two-year warranty program was recently announced by this company. This coverage now protects the average wear and tear that can happen to a used transmission. The announcement located at http://www.prweb.com/releases/used-chevy-transmissions/sale-with-warranty/prweb10488167.htm helped to introduce the public to the terms of this new warranty program.
The application of this coverage across the entire company inventory is expected to provide the options that buyers cannot find from online only sellers. All sales processed by this company now offer this warranty as an extra bonus.
About Got Transmissions
The Got Transmissions company sells manual and automatic automotive transmissions. The discount pricing attached to the company inventory is one method used to expand distribution in the U.S. Company measures like free shipping have helped to introduce more customers to a variety of inventory now carried online. The Got Transmissions company supplies warranty protection for all sales of its used units online. These additional protection efforts are helping to separate this company from average sellers of used auto parts on the Internet. The Ford, Chevrolet, Dodge, Jeep and import inventory is constantly rotated to provide a larger selection for purchase.