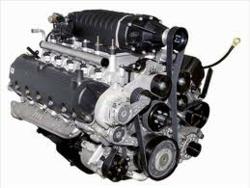 This pricing is also applicable to engine installation companies.
San Antonio, Texas (PRWEB) March 26, 2013
Preowned vehicle owners have a choice to make when considering a motor replacement. The purchase of a new engine could be more than the value of a used vehicle. Purchasing a high mileage motor might not provide the long-term value expected. The EnginesforSale.org company is now discounting its Ford engine replacement inventory to help provide better pricing for preowned vehicle owners. This pricing is also applicable to engine installation companies. These prices are scheduled to remain in effect permanently. More details can be found online at http://enginesforsale.org/ford/used-ford-engines-sale.
Ford Motor Company along with General Motors supplies the majority of cars, SUVs and trucks produced in North America each year. New vehicles that are traded into dealerships are frequently sold on the secondary market to buyers searching for used vehicles. One drawback buyers face when selecting a used vehicle is high mileage that could be placed on the engine block.
The excessive wear and tear on high mileage engines can be one reason why replacement is necessary. The Ford inventory now discounted for buyers online includes low mileage edition engines that are reviewed with a 30-point checklist prior to shipment.
New advancements have been made by this company online this year. As one of the leading engine sellers online, the EnginesforSale.org company has upgraded the services available on its website. Hundreds of pages now exist online to help buyers research and learn about individual engine types before purchase.
This accurate portrayal of the company inventory helps answer many questions buyers have before purchase. These pages are in addition to the sophisticated quote system recently installed online. This new pricing center is responsible for distributing all pricing to customers prior to sale.
The new Ford price decrease is one of the changes recently made by this company. The Chevrolet side of the company inventory has received equal upgrades. Corvette engines are now a part of the company inventory sold to the public.
The news release at http://www.prweb.com/releases/corvette-engines-for-sale/engines-for-sale/prweb10372997.htm was used to inform the public of the addition of the L-series Corvette engines now supplied online. These V8 engines have received a special price strictly for online and toll-free telephone number sales.
About EnginesforSale.org
The EnginesforSale.org company acquires, discounts and sells engines in North America. This company now has one of the most researched inventories of hard to locate engines. Nearly all motors produced by automakers within the past 25 years are represented in the company inventory. The new warranty structures put in place by this company have helped to open new doors for consumers purchasing online. The EnginesforSale.org company attaches its warranty protection in effort to protect all buyer purchases. This company assists each customer using automotive industry specialists as an alternative to standard call center processing.