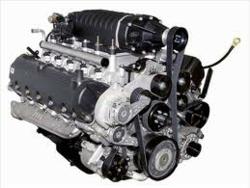 Vehicle owners replacing a motor can find that warranties are hard to locate for coverage lasting longer than 90 days.
Little Rock, Arkansas (PRWEB) March 19, 2013
Ford is one of the pioneers of the V8 engine. While all automakers have this size in the lineup, Ford has developed multiple technologies for this class of engine. The Motor Universe company is a leading preowned engine seller online and is now discounting its Ford V8 engines for sale for buyers. These used engines include the majority of engine families currently produced by Ford Motor Company and are now available for online or toll-free telephone number sales. More details can be found at http://motoruniverse.com/ford-motors-for-sale.
Ford has relied upon its Essex engine to provide power and torque to its F Series pickup trucks for two decades. The 1990s creation of the Triton engine helped boost the horsepower and towing capacity. This V8 engine series has been used for the majority of trucks reduced after 1997.
Locating a preowned truck engine online with low mileage is one of the drawbacks of the engine research process. The motors that are now discounted online are designed to provide the resources buyers search for on the Internet before purchase.
Engine mileage can be one factor leading to sudden breakdown. While most automakers provide benchmark warranty protection, secondary automotive sellers do not always offer extended coverage packages. Vehicle owners replacing a motor can find that warranties are hard to locate for coverage lasting longer than 90 days.
The MotorUniverse.com company has made recent changes to its warranty policy for all sales. The Ford V8 engines now discounted as well as the other brands in stock are now eligible for two-year warranty coverage without additional costs.
The reduction of the Ford engine pricing is a new incentive put in place due to recent Chevrolet price decreases. A Chevrolet inventory discount was recently announced by this company at http://www.prweb.com/releases/chevrolet-engines-sale/v6-v8-i4-diesel-used/prweb10487819.htm.
The Chevy motor inventory has been successful due to the creation of the new price structures. The success of this reduction in price is expected to help raise the amount of Ford engine sales made through this year. Additional discounts and online only deals are expected to be announced before the end of the year.
About MotorUniverse.com
The MotorUniverse.com company is a secondary market engine seller now leading online sales for these engine types. Inventory from Ford, General Motors, Chrysler, Jeep, Toyota and other automakers are now in stock and sold to buyers. This company has recently updated its online price quotation method to provide faster and more accurate pricing for customer requests. The MotorUniverse.com company now provides warranty protection for all sales to customers. This new protection type is in addition to the sale pricing and free shipping incentives currently in place for all buyers.