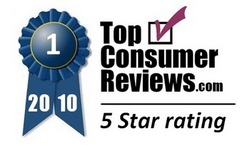 We're delighted to receive TopConsumerReviews.com's highest rating
Overland Park, KS (Vocus) August 3, 2010
TopConsumerReviews.com recently awarded their highest five-star rating to Foreclosure.com, a market leader in Foreclosure Listing providers.
"We're delighted to receive TopConsumerReviews.com's highest rating," said Michael Manning, Marketing Manager at Foreclosure.com. "We deliver the latest, most complete residential foreclosure property listings in an easy, accessible format to our customers and business partners. No other website or source comes close to providing the same high level of timely and detailed information than Foreclosure.com."
Foreclosures are hitting record numbers every month. The conversion of low-payment introductory mortgages to higher fixed rate plans, plus a sluggish economy, result in higher mortgage payments that many people simply cannot afford. While this is unfortunate for many homeowners, it presents a tremendous financial opportunity for others.
"Foreclosure.com has the best foreclosure listing service available today," explained Brian Dolezal, of TopConsumerReviews.com "With over 1.8 million properties available, a listing database that's updated twice daily, and state-of-the-art features such as aerial mapping and current house photos, Foreclosure.com delivers exactly what house hunters and investors are looking for."
To find out more about Foreclosure and other Foreclosure Listings providers, including reviews and comparison rankings, please visit the Foreclosure Listings providers category of TopConsumerReviews.com at http://www.topconsumerreviews.com/foreclosure-listings.
About Foreclosure.com
With more than 1.8 million foreclosure, preforeclosure, bankruptcy, FSBO, tax lien and Sheriff sale listings in one place, Foreclosure.com delivers America's largest and most accurate searchable database of foreclosed homes and investment property information to its customers and business partners. Based in Boca Raton, Fla., Foreclosure.com works with hundreds of top lending institutions and government agencies to list diverse property types on its Web site, including Real Estate Owned (REO); Department of Housing and Urban Development (HUD); Department of Veterans Affairs (VA); Fannie Mae; and other government agency and financial institution properties; as well as listings from an extensive network of corporate sellers. Foreclosure.com offers much more than just real estate listings, connecting sellers, buyers and agents in one convenient location as a one-stop real estate marketplace.
About TopConsumerReviews.com
TopConsumerReviews.com is a leading provider of independent reviews and rankings of hundreds of consumer products and services. From home security systems and internet filters, to online divorce and payday loans, TopConsumerReviews.com delivers in-depth product evaluations in order to make your purchasing decision easier.
# # #