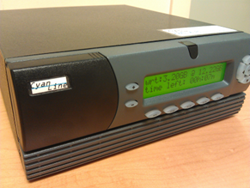 "FDAS was the only solution that allowed me to image a 1 TB drive in just over three hours. No other solution came close...The interface is amazingly easy—it's like the iPod of imagers."
Eatontown, NJ (PRWEB) May 01, 2013
CyanLine, a computer forensics and network security solutions company, has launched its latest innovation in computer forensic technology—the Fast Disk Acquisition System (FDAS). Specifically engineered for high-speed imaging, the new device consolidates several elements into one streamlined unit—eliminating cumbersome steps and equipment that significantly impacted performance and required forensically trained personnel to administer.
Designed for law enforcement and other government agencies as well as corporate security departments, FDAS is distinct from ordinary forensic imaging systems. Traditionally, to forensically capture a subject's drive, a forensic investigator would require a blank destination drive, laptop with imaging software, writeblocker and associated cables. With FDAS, the all-in-one unit is connected to the subject's drive and can be copied with the push of just two buttons.
"It turns out that imaging can only be as fast as the weakest link," said Steven Branigan, president of CyanLine and forensic scientist. "All of those components can slow down the imaging process. By combining all of them into one unit, we give up nothing on the data integrity side, and we have huge gains on performance."
Former NJ State Police Lieutenant Scott Johnson used FDAS for investigations and was stunned at its speed.
"FDAS was the only solution that allowed me to image a 1 TB drive in just over three hours. No other solution came close," Johnson said. "The FDAS has an intuitive interface that supports SATA, USB, IDE and FireWire. Since the writeblocker is built-in, there is never a concern about contaminating the source disk drive. The interface is amazingly easy—it's like the iPod of imagers."
"We designed FDAS at the request of a law enforcement agency," Branigan explained. "They needed a system that could be administered by law enforcement personnel who were not necessarily forensically trained—yet still maintain chain of custody integrity."
The long-standing complexity in imaging has been negatively impacting investigations. In a recent Police Chief Magazine article, "The Growing Challenge of Computer Forensics," it was noted that police managers must find a way to examine an increasing number of digital devices, each containing an immense volume of data, in a timely manner and with limited resources. Additionally, some jurisdictions have tight deadlines for which forensic material must be gathered—adding more pressure. Loss of critical evidence can result because examiners cannot obtain the information needed before time runs out.
"FDAS fills this void in forensics technology by offering a solution that is easy to use, secure, portable and, most importantly, fast," said Branigan. "The clean design means you don't need to carry a suitcase of drives, nor worry about an entanglement of wires. In the old days, if an investigator tripped over the power cord, they could lose hours of work. FDAS endures and won't lose any of the information."
The system holds two RAID drives inside a sealed chassis that will store up to 1.5 TB of images – in either dd or E01 formats. Simply connect the source drive to the FDAS to start imaging. The resulting image is stored onto a target drive that is sealed within the FDAS unit. Only authorized personnel who have proper role-based permissions can review the images. Measuring just 8" x 6" x 4" and ruggedized, the patented FDAS can be easily shipped to any investigation location. For more information, visit http://www.cyanline.com.
About Steven Branigan:
Experienced forensic scientist and licensed private investigator, Steven Branigan has made it his mission to create forensically sound products to advance the investigative industry. Renowned speaker and instructor, Branigan is an active member in the High Technology Crime Investigation Association (HTCIA), Federal Bureau Investigation's Infragard, New Jersey License Private Investigators Association, and on the Digital Forensics Certification Board. Branigan is the author of High Tech Crimes Revealed and recently published an article in the Journal of Forensic Sciences. With experience in domestic and international cases, Branigan has received awards from the U.S. Secret Service and New Jersey State Police.