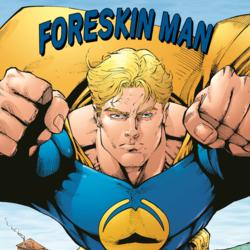 Imagine watching your favorite color movie in black and white. Would you still be able to follow what's happening? Yes, you would. But you would also be missing something. That is one way to describe sex without a foreskin. All the color is gone
San Diego, CA (PRWEB) November 08, 2011
The group behind efforts to ban forced circumcision of boys has recorded a new dance tune entitled "Foreskin Man" to promote their comic book series of the same name. The song is performed by Vulva Girl, Foreskin Man's female counterpart, and was released today by MGMbill Records.
The lyrics were written by Matthew Hess, president of MGMbill.org. Hess is also the author of the Foreskin Man comic book stories, as well as the San Francisco MGM Bill that was struck from today's ballot by a Superior Court judge over the summer.
"The theme of this song is that the foreskin has value," said Hess. "Imagine watching your favorite color movie in black and white. Would you still be able to follow what's happening? Yes, you would. But you would also be missing something. That is one way to describe sex without a foreskin. All the color is gone."
While Hess wrote the words to the song, he collaborated with members of the Intactivist Underground to compose the music and oversee the recording session. The result is a radio friendly track that Hess hopes will strike a chord with listeners.
"Foreskin Man" is available to download for free at http://www.foreskinman.com, in both MP3 and WAV formats.
Foreskin Man Song Lyrics
Mmmm ooohhhh
While you're out saving boys from the knife
I can't help feeling lonely in my life
I know it's a calling that must be answered
They're not the only ones who need to be pampered
I get relief knowing you put cutters away
But a girl still needs time for foreplay
When the doc and mohel are behind bars
Let me help you forget about those scars
Foreskin Man, I need your lovin' tonight
It's the only thing that makes me feel right
Foreskin Man, I want that slip and slide
Won't you please come glide inside?
Foreskin Man, I miss your gentle caress
My body cries for you, I do confess
Foreskin Man, visit my balcony
Being gone this long is a felony
I'll cheer for you on tonight's news
When they talk about your latest rescues
And while my heart aches for a rendezvous
I trust you'll return when my time is due
###