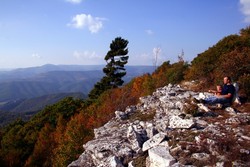 It is more blessed to give than to receive
Charleston, WV (PRWEB) December 14, 2009
ForestWander Nature Photography, a team of Father and Son Nature Photographers, in the Spirit of Giving, offer free downloads of 21 Mega-Pixel artistic unique nature photos. New camera equipment provides image resolutions of up to 5616 x 3744 for website visitors.
These images can be printed on poster size prints as large or larger than 34 x 44 inches and as stated on ForestWander.com can be used for commercial or personal purposes. This unprecedented offering of royalty free high quality images has generated mass numbers of downloads from their photography website.
ForestWander Nature Photography began in the mountains of West Virginia, a state known for coal mining and economic hardships. A father and his son began hiking in the Monongahela National Forest and State Parks, in the fall of 2004 starting as just a hobby. Rusty Lilly was 4 years old at the time, and since then Troy and Rusty Lilly have hiked hundreds of miles throughout the mountain state, documenting their travels together with nature photography and nature video.
With little to no experience in photography, but a true passion for God and His creation, this father and son spend quality time together hiking, camping, fishing, and enjoying the hidden treasures of the outdoors.
However, Troy and Rusty soon realized that it was meant for them to share their nature adventures freely with the world through their website ForestWander. After beginning to publish their nature pictures for free on their website; to their surprise these two began receiving emails and phone calls, asking permission to use their pictures for Christmas cards, Gospel music CD's and even having their nature photography published in magazines.
Troy says that "we have seen wonders that we never imagined existed" in the nearby mountains and forests of West Virginia. He says that they often take time when they are hiking, to just sit down on a trail and talk about "how God walked with Adam in the Garden of Eden, in the cool of the day". Troy believes that this influence will have a significant impact on his son Rusty's life as he grows into adulthood. Troy often quotes a scripture, "The Son can do nothing of Himself but what he seeth the Father do", and believes that teaching Rusty to give from the heart without expecting something in return, is one of the greatest lessons to be learned in life.
In their best effort to offer their experiences and memories to others, they decided that they should somehow obtain quality photography equipment, and enhance their website in order to provide a unique gift for all visitors from every nation to enjoy. Troy and Rusty say that "God has provided everything we need and thensome, through our website visitors", and they say that "with the generosity of our visitors; we fund our trips to the mountains, have purchased quality camera equipment, and pay our monthly hosting fees".
The stock of free nature photography offered at ForestWander.com is vast (over 2000 images), and even suitable for framing. The pictures that they give away are artistic to say the least, and range from 1 mega-pixel, taken with a point and shoot Canon Powershot A50, to 21 mega-pixels rendered from a full frame Canon 5D Mark II. These two nature photographers say they just do this for fun, but are nonetheless borderline professionals.
The Lilly family are certainly Christians, and not only do they say that they are Christian, but they want to demonstrate their love for God in testifying about nature, the theme of their site comes directly from scripture stating "For the invisible things of HIM from the creation of the world are clearly seen, being understood by the things that are made". Troy says that he is so blessed when he hears from visitors as far as India, and China and asks that we all remember the words of the Lord Jesus, how he said, "it is more blessed to give than to receive".
Of the many joys in life, there are few that compare to the joy that comes through giving to others. In a time of economic troubles, selfish wants and desires, there is still a true spirit of giving in the hearts of a little boy and his dad.
# # #