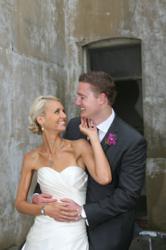 Just wanted to say a big thank-you for doing my hair and make-up for my wedding day, I was really appreciative of how calm you were, made me relax and have a laugh. My hair and make-up was stunning-I have never felt so beautiful.... Erin
Melbourne, Victoria (PRWEB) March 04, 2013
This past summer in Australia is the hottest on record. For the ladies, this means terrible problems with their foundation smearing, ruining lots of hard work and all the photos.
"One of the biggest complaints we [Forever Flawless] get is the fact makeup does not last in the heat and humidity. Our new technique resolves much of that," said Caroline Balinska of Forever Flawless.
Forever Flawless is the leading team of bridal hair and makeup artists in Melbourne. With each artist having over 10 years experience, the latest bridal hair and makeup techniques are second nature – right after their exceptional customer service.
"It is our service and services that make us who we are. If not for our customers, we would be out of business, and our business is our customers," Balinska said.
Forever Flawless uses a special airbrush makeup. This technique lasts from 12 to 24 hours. Water resistant, it is frequently employed in water photo shoots and resistant to tears.
"There is a definite lack of high end makeup artists in Melbourne for brides. Many brides are wasting money on trials with less experienced makeup artists, trying to find the perfect look. We boast a 100 percent success rate with trials," Balinska continued.
Balinska herself has over 15 year experience in hair and beauty and has worked in some of Melbourne's top salons. She specialises in pre-wedding services such as hair extensions, spray tanning and hair colour. Weekends are full with bridal clients.