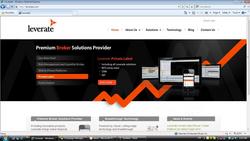 (Vocus) November 2, 2010
Leverate is well-known in the forex market for its comprehensive suite of products and services for brokers, such as Live Rate Feeds, a complete and independent Private Label Solution, and Web and Mobile trading platforms for brokers. The new website provides detailed information and close-up screenshots for all Leverate's quality solutions, allowing brokers to drill down into each product's key features and benefits. In addition, secure and easy-to-use interactive mechanisms enable brokers to apply for a free health check from Leverate for their existing feeds or request a demo.
Leverate Chief Executive Ran Strauss said: "At Leverate we have always taken the concerns of our brokerage customers very seriously, proactively eliciting their feedback and using their valuable input to enhance our products and services. Our new website is designed to showcase these and other offerings, providing prospects and customers with up-to-date content and multiple contact options for reaching a sales representative, demo requests or our 24x6 technical support."
The company has experienced significant growth since its foundation. Leverate has invested hundreds of thousands of dollars in R&D over the past two years, including a series of informal research programs, in order to bring state-of-the-art trading solutions to its customers.
Ran Strauss added: "In today's highly competitive market, brokers rightly expect to receive high-quality solutions at an attractive price, backed by professional support services. Our comprehensive solutions naturally increase brokers' trading volumes, while also improving the service quality they give to traders. By engaging in an ongoing dialog with our customers, we will continue to refine our solutions and services to meet their needs now and in the future."
About Leverate
Leverate is a provider of comprehensive broker solutions that deliver a full suite of innovative offerings to Forex and financial brokers around the world. Our solutions and services enable brokers and financial institutions to minimize risk and maximize profit. Reflecting our industry leadership, Leverate has rapidly become the benchmark for financial feeds in the brokerage industry.
Leverate offers cutting-edge solutions powered by breakthrough technology. Leverate provides market players with trading tools and services such as full white label solutions, Liquidity Bridge, live feeds and web & mobile applications. Dozens of brokers around the world rely on our solutions and services to increase trading volumes, achieve maximum precision and accuracy with market feeds and prevent fraud. In line with our commitment to our growing customer base, Leverate continues to develop new solutions and innovative technologies that address evolving market trends and generate better value for our customers.
For more information or a trial demo of one of our solutions, please contact us or call us at: +44-20-8816-8970 / skype: leverate.sales
###