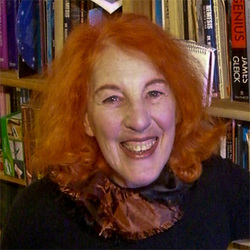 10 p.m. by the Singapore River
Northampton, MA (PRWEB) December 15, 2009
Tom Howard Books is pleased to announce the results from its sixth annual Margaret Reid Poetry Contest for Traditional Verse. Judith Goldhaber of Berkeley, California won first prize and $2,000 for her poem "The Bewick's Wren". Hundreds of entries were received from around the world.
Goldhaber's skill with clever rhymes is evident from her first stanza: "A different tune is whistled by the pair / of small brown birds who've settled in to share / the children's empty room. The chatty male / and modest female built their slapdash nest / of hair and mud and grass and leaves and sticks / inside a fortress of pink plastic bricks— / a Malibu Dream House, formerly possessed / by Princess Barbie and her consort Ken: / the perfect palace for a Bewick's wren."
The judges said, "Like all three of the other major prizewinning entries, 'The Bewick's Wren' is a wholly engaging poem that works well on multiple levels. In this quite remarkable composition, the author brilliantly combines three genres: nature poem, domestic escapade, playful conceit. Imagine a wren building her nest in a doll's house! Perhaps this actually happened. Certainly Judith Goldhaber makes the incident ring true—and that is part and parcel of her work's intrinsic charm. This picture of an enchantingly topsy-turvy Lewis Carroll world is then ratified by the cunning use of rhyming verse, which in turn imparts a delightfully mock-heroic aura to this unique yet spellbinding event."
Second prize of $1,000 went to Samuel Tan of Singapore. In "10 p.m. by the Singapore River", Tan has created a cityscape that stays in the memory, thanks to his use of evocative language and his careful selection of typical but inherently fascinating incidents. The poem grips the attention right from its opening lines in which Singapore is energetically presented as a "thinking" city.
Rosmarie Epaminondas-Böhm of Madrid, Spain won third prize and $500 for "Miss Worthington". Unlike the other top winners, this poem is a straightforward character study—an absorbing, all-too-human reminiscence rather than an ingenious conceit, a countryside or cityscape.
Ellaraine Lockie of Sunnyvale, California won fourth prize and $250 for "Coming Home in a Haibun". This alluringly descriptive poem, written in a traditional Japanese form that alternates haiku with prose paragraphs, presents rugged rural scenery most imaginatively in striking images that catch the mind's eye.
High Distinction Awards of $200 each went to Carmine Dandrea, Elizabeth Davies, Louis Girón, Michael John Walsh, and Christine Hemp. Most Highly Commended Awards of $100 went to Noble Collins, Judith Goldhaber, Debra Gundy, Paul Hamill, Alys Jackson, and Jeanie Mercer.
The top four winners, High Distinction and Most Highly Commended poems are all published online at WinningWriters.com.
About Tom Howard Books and John H. Reid
The Margaret Reid Poetry Contest for Traditional Verse accepts original poems of any length. Both published and unpublished works are accepted. Traditional verse is broadly defined as any form of poetry that has been in circulation for 50 years or more. This would certainly include free verse. The seventh contest is now open for entries, with a postmark deadline of June 30, 2010. $5,550 in prize money will be awarded, including a First Prize of $3,000. Entries are accepted both online and by mail. For guidelines, please see http://www.winningwriters.com/margaret.
Contest sponsor and final judge John Howard Reid is a former journalist and magazine editor who has published several novels and collections of poetry, a guide to winning literary contests and fifteen books of film criticism and movie history. He lives in Wyong, Australia. Mr. Reid is assisted in the judging by Dee C. Konrad. A leading educator and published author, Mrs. Konrad was Associate Professor in the English faculty of Barat College of DePaul University, and served as Dean of Liberal Arts and Sciences for the year 2000-2001.
About Winning Writers, Inc.
Winning Writers assists with entry handling and publicity for the Margaret Reid Poetry Contest and other literary contests sponsored by Tom Howard Books. Winning Writers is today's leading source for poetry contest information. We have been selected as one of the "101 Best Websites for Writers" by Writer's Digest for five years in a row (2005-2009). Our online database, Poetry Contest Insider, ranks and profiles over 750 literary contests.
###