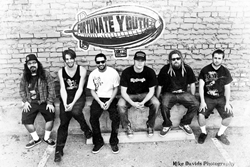 Fortunate Youth comes to Alhambra Theater in Portland, OR on November 13th in support of their most recent release, "It's All A Jam."
Portland, OR (PRWEB) October 30, 2014
Fortunate Youth is touring in support of their most recent release, "It's All A Jam," which hit numerous charts including #1 on Billboard Reggae Charts, #10 Billboard Pacific Heatseekers Chart, #23 Billboard National Heatseeker Chart along with #1 on iTunes Reggae Charts and #46 iTunes Overall Charts. Fortunate Youth is a collaboration of South Bay reggae stand-outs. Rising from various bands, they've created a phenomenal 6-piece masterpiece bringing more fire to the stage than ever before, combining rootsy vibes and unique bass lines united with multiple harmonies, boisterous guitar solos, and heavy keys. With their high energy approach and positive stage presence they provide an unforgettable show to every music fan. Fortunate Youth's objective is to ensure a performance that leaves you feeling euphoric and curious of what might happen at the next show.
Fortunate Youth performs live in Portland, OR!
Thursday, 11/13th
Alhambra Theatre Portland
4811 SE Hawthorne Blvd
Portland, OR 97215
http://www.alhambrapdx.com/
Show at 9pm
$10 -All Ages
http://www.ticketfly.com/purchase/event/617879/tfly?utm_medium=api&utm_medium=291182
Support: The Expanders, Thrive
Fortunate Youth just finished a Spring 2014 Headline Tour and are gearing up for their Fall with Friends Tour which boasts a solid lineup of support bands including: New Kingston, The Expanders, The Steppas, Ease Up, Thrive, Ashes of Babylon, and more. Keep an eye out for a show in a city near you. All Tour Dates can be seen at http://www.fortunatemusic.com
For more information, images, or to arrange for an interview, please contact Melissa Zeigler at Powderfinger Promotions: melissa(at)powderfingerpromo(dot)com.
Powderfinger Promotions–Independent Radio Promotion and Publicity. Since being founded in October 1994, Powderfinger has come to be regarded as a top indie radio promotion and publicity firm with ties across North America.