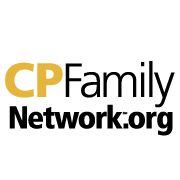 Join our community for the latest tips, therapies, technologies and more!
Austin, TX (PRWEB) March 14, 2013
The Cerebral Palsy Family Network has launched an online forum for parents of children with cerebral palsy to have conversations and share ideas to better the lives of their children. The forum was created in response to overwhelming participation on the Network's Facebook page, which has over 32,000 likes, and the need to organize topics for future reference. Discussions on the forum are divided into categories including:

Advocacy and Education
Causes of Cerebral Palsy
Cerebral Palsy Diagnosis
Child Development
Community
Equipment and Assistive Technology
Patient Care
Treatment and Therapy
"The new online forum compliments our website and active social media presence, allowing community members to maintain ongoing discussions about raising a child with cerebral palsy," said Lee Vander Loop, CP Family Network Editor.
"We hope parents and caregivers will use the forum to share tips, ask questions, and provide support and encouragement to other parents," added Vander Loop.
To participate in the discussion, visit cpfamilynetwork.org and click on the "forum" link on the home page. Before posting a question or comment, community members will need to create an account and check their email for a temporary password. Further instructions are available upon log-in. Once registered, members can contribute to existing conversations or start their own topics.
Cerebral Palsy Family Network
The Cerebral Palsy Family Network is a 501-C3 non-profit organization whose mission is to provide medical and legal resources to families and children with cerebral palsy. Among the resources it offers parents are the Cerebral Palsy Online Resource Directory, a free searchable database of resources available to CP families in each state and Washington, D.C., and the Care Guide: Medical and Emergency Records, which helps parents organize, update and share information about their child using their computer.