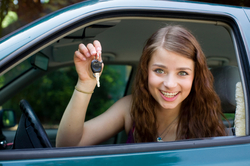 Found My Ride.com is an easier way to shop for Cars, RVs, Boats or Motorcycles.
Cincinnati, OH (PRWEB) April 9, 2010
People are busier than ever these days and shoppers are tired of spending hours looking through countless ads when searching for a car, RV, boat or motorcycle. Finally there is a easier way. Found My Ride.com is an exciting new web site that's only purpose is to make the shopping experience easier for consumers. "People have been asking for this for years," says Nick Raymond, Found My Ride.com's founder. "People want to have someone find them the vehicle that fits their needs and give them a great deal, without all the hassle."
In about a minute, a customer can fill out a simple form describing exactly what type of vehicle they are looking for and exactly how much money they want to spend. This way, the dealers only respond with specific vehicles that match the customers wants and needs.
There are 4 parts of this website. http://www.FoundMyRide.com is focused on cars, trucks, minivans and SUVs. http://www.FoundMyRV.com is for motorhomes, fifth wheels, travel trailers and pop up campers. http://www.FoundMyBoat.com is for boats and watercraft, and http://www.FoundMyMotorcycle.com is for motorcycles. All of the names fall under the main name of the website, Found My Ride.com.
"People can just fill out a simple form, describing the vehicle that they are looking for," says Raymond. "Up to 3 dealers will get back with them with a quote on a matching vehicle, usually within 24 hours."
So far the response has been great. Customers love the fact that dealers are doing the looking for them. They are only contacted about vehicles that fit their needs. Dealers are happy to get the quality leads that come in from Found My Ride.com. What in the past took thousands of advertising dollars to get leads, now is very inexpensive, and the leads describe exactly what the customer is looking for.
Nick Raymond, who has been with a dealership for 14 years, saw the need for a better way to match customers with dealers. "Dealers spend thousands of dollars a month in advertising, and get questionable results." "With Found My Ride.com, dealers only pay for the leads that they get."
Found My Ride.com has big goals. "By this time next year, Found My Ride.com will be the main place that people go on the web to shop for all types of vehicles."
###