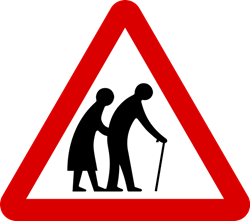 Our study revealed that an 80 year-old driver will be paying more than twice as much for their insurance as a 50 year old.
(PRWEB UK) 6 September 2012
Earlier this year, the DVLA revealed that there are currently over 1 million motorists in the UK aged 80 or over and that there are more than 120 drivers who have received their 100th birthday cards. With an ageing population, this will increase markedly over the next few years: the Office of National Statistics has estimated that there will be some 8.7 million people over the age of 75 in the UK by 2033 – an increase of 3.9 million (81%) on those estimated in 2008.
It is widely recognised that mobility is a key issue for older people and the ability to drive is often key to retaining independence and links to services and activities.
Comparison site Tiger.co.uk has examined a range of car insurance quotes in order to quantify the effect on insurance premium pricing that UK drivers experience as they grow older. Using a standard driver profile and averaging prices for male and female drivers, Tiger.co.uk returned the following set of pricing data, with age, driving experience, no claims bonus accumulation and retirement at the age of 65 being the only variables to the quote details.
The results can be illustrated graphically to show the four clear key life stages of pricing for drivers when it comes to age as a discriminating risk factor for insurers. These four life stages can be categorised as:
1. Young drivers
2. Working years drivers
3. Early retirement drivers
4. Late retirement drivers
Commenting on the data, Andrew Goulborn, Tiger.co.uk's Commercial Director, said: "With an ageing driving population car insurance pricing for older drivers will come under increasing focus, just as it is now for younger drivers. Our study revealed that an 80 year-old driver will be paying more than twice as much for their insurance as a 50 year old, and a 90 year old some four times more.
"Clearly these rates reflect the relative risk presented to insurers by older drivers but with mobility so key to the lives of so many of our senior citizens, it's vital to find ways to keep safe drivers on the road for as long as possible. And insurance needs to be affordable for these safe drivers.
"We welcome work being undertaken by Newcastle University and others in developing technologies that may help older drivers overcome some of the difficulties they may encounter when driving such as 'Granny Nav' route planners and enhanced dashboard displays. And when it comes to affordability we would encourage older drivers to shop around for the best prices when their insurance is up for renewal – using Tiger.co.uk is a great start for drivers of all ages."
About http://www.tiger.co.uk
Tiger.co.uk is a trading name of Call Connection Ltd. Tiger.co.uk is a UK based, independent motor insurance comparison site, offering insurance quotes from over 150 insurance brands. Call Connection Ltd is authorised and regulated by the Financial Services Authority (number 308374).