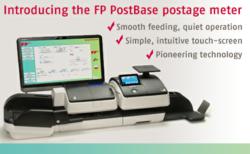 Addison, IL (PRWEB) September 15, 2012
FP Mailing Solutions, an international manufacturer of postage meters, mailing systems and mailroom software, has introduced PostBase, a sleek new state-of-the-art mailing machine series. PostBase allows businesses and organizations more choices than any competitor in how their machine operates and looks.
PostBase Choices and Features:

Change processing speed
Six machine cover colors
User-friendly color touch screen
Available automatic feeder to speed mail processing
Reporting and accounting software
Automatic postage rate table updates via Internet
Postage replenishment via Internet
Machine operating system updates via Internet
Tony Malak, FP Mailing CEO, is enthusiastic about FP's new product line, saying "The PostBase mailing systems are the first postage meter system to give the mailer the choice with customizable features that the customer actually needs."
One of the PostBase's most important features allows the mailer to choose the mail processing speed. The PostBase series includes three models capable of processing 30, 45, and 65 letters per minute. As businesses grow or downsize, all PostBase machines can be upgraded or downgraded with a simple software update.
Another industry first: PostBase customers can pick their postage machine color. FP offers PostBase in black, silver, blue, red, gold. For a limited time, customers can also select pink through FP's partnership program with the National Breast Cancer Foundation® (NBCF).
Pioneering the incorporation of features normally found only in high-end mailing systems, FP has made a color touch screen standard on every PostBase machine. The touch screen is not only easy to understand and use, it can be updated over the internet with new navigation and features.
Mailers also have the ability to add an automatic feeder, a first in the low-to-medium volume "A" segment.
PostBase users can choose companion PC software. With RemoteOne, mailers access all of the functions of their mailing machine from their PC, including class of mail, advertisements, SMS texts, and then process their mail. ReportOne gives mailers all the functions of RemoteOne with added reporting functions.
FP will soon offer MailOne software for the PostBase, which allows comprehensive reporting and accounting capability as well as access to Commercial-Based Pricing (CBP) discounts, saving money over retail USPS® prices.
"The USPS has improved their pricing structures to be more customer-focused while emphasizing the importance of software. We see ourselves as a key partner and provider to allow mailers to utilize these discounted postage rates and are continuing to develop new ways to further enhance the mailers' experience," says Director of Marketing, Kevin Pietras.
Watch a video overview, rundown its features, and see specs at fp-usa.com/postbase.
About FP Mailing Solutions
FP Mailing Solutions is an international manufacturer of postage meters, mailing systems and mailroom software. Whether you have a large mailroom or own a small business, FP Mailing Solutions has the tailored postage meter system for your needs. For more information on FP Mailing Solutions, visit http://www.fp-usa.com.
Contact
FP Mailing Solutions
Kevin Pietras, (800) 341-6052 x 5728
kpietras(at)fp-usa(dot)com