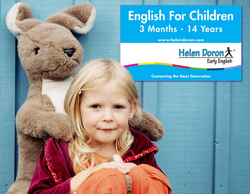 People around the globe are waking up to the fact that Helen Doron Early English is both a great business opportunity and a high quality educational product that improves children's lives.
London, UK (PRWEB) October 30, 2008
A hot survey recently published by Startup Magazine, lists the 30 fastest growing franchise businesses for all sectors in Germany, with Helen Doron Early English capturing the No. 2 spot. Within the educational franchise sector, Helen Doron Early English is clearly No.1 in Germany.
"Startup", a popular German language quarterly catering to entrepreneurs and young business people, thought their readership would be interested to know which franchise businesses were expanding the fastest. Research was based on details submitted to the German Franchise Association every January 1st from 2005 to 2008. A point system was devised to rank franchise businesses by annual rate of expansion by percentage, and also by an increase in total number of country-wide branches. But speed of growth wasn't the only factor used to determine the franchise business rankings. Quality and stability were considered vital factors in establishing the success of any given franchise business, and quality and stability are qualities that the Helen Doron Early English educational franchise can proudly boast.
Helen Doron Early English, franchised around the globe, has enjoyed especially rapid expansion throughout Europe, with countries like Germany, Poland, Hungary and Italy showing impressive growth rates of Franchisees and student numbers. Anne Gordon, VP of Business Development for the Helen Doron Group is very encouraged. "The efforts made by our German Master Franchisors have helped elevate Helen Doron into the position of premier educational franchise in Germany."
Richard Powell - Helen Doron Master Franchisor and National Coordinator for Germany says, "The strength of the Helen Doron brand and materials are clearly the source for our success. The comradeship felt between franchisees is special and Helen Doron Early English will continue to grow. I am very proud and privileged to have been entrusted with the position of National Coordinator during this exciting period of expansion."
Armin Ritschny, Helen Doron Master Franchisor for Southern Germany, has been with the company since 1999. "The awareness of the special value of our work to the children grows each day as Helen Doron Early English steadily gains popularity in Germany. I believe much of our success has been achieved through a combination of first-class proven Helen Doron programs, and an excellent franchise support network."
Anne Gordon is confident that the Helen Doron brand will repeat the success of Germany in newer markets, "People around the globe are waking up to the fact that Helen Doron Early English is both a great business opportunity and a high quality educational product that improves children's lives." In operation since 1985, Helen Doron Early English is currently franchised in 25 countries with more than 480 learning Centres worldwide and growing. To find out more about becoming a Helen Doron Master Franchisor or Learning Centre Franchisee in your area visit: http://www.helendoron.com/business-opportunities.php
The Helen Doron Educational Group develops programs that make the most of children's in-born receptiveness to languages -- reaching all ages, from 3 months up to 14 years. The Helen Doron learning system encourages children to learn English naturally, just as they would their mother tongue, within a playful, musical and nurturing environment. Exclusive learning materials are specially designed by pedagogic and linguistic experts to help enhance cognitive skills for increased learning capacity, better retention, and a brighter future for all children.
Quality Helen Doron educational programs and franchise opportunities:
http://www.helendoron.com
Helen Doron Early English: 3 months - 14 years
http://www.supernature1.com
Super-Nature school program: English through nature for large groups, grades 1- 3
http://www.mathriders.com or http://www.mathriders.co.uk
MathRiders maths tutoring: ages 4 - 18 years
http://www.ready-steady-move.com
Ready-Steady-Move school program: movement through language ages 4 - 8 years
http://www.englishpolly.com
Polly the Collie: kindergarten program: English for large groups
For sales at the Helen Doron Group contact: David Laszlo Conhaim
at Laszlo @ HelenDoron.com TEL: +972-4-902-7900 / FAX: +972-4-999-0543
###