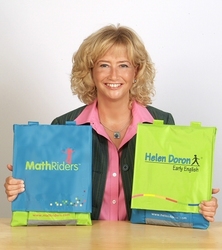 Even if other companies are slowing down on spending, we have the need to continue to advance with our development and expansion
London, UK (PRWEB) January 6, 2009
Many companies around the world are preparing to weather the coming economic storm by cutting back, sacrificing their workforce, freezing product development and growth plans. The Helen Doron Educational Group however, takes a more progressive outlook. "Even if other companies are slowing down on spending, we have the need to continue to advance with our development and expansion," says Helen Doron, CEO of the Helen Doron Group. "We are currently taking on new staff in sales, marketing, pedagogic development, and IT."
Construction is soon to begin on an additional floor to the existing Helen Doron International Headquarters building, that was completed only two years ago, in order to furnish more office space for the growing team.
The Helen Doron Educational Group stands at the forefront of some of the world's most advanced educational systems, and has no plans to stop now according to Helen Doron. "Our staff members are hard at work creating and supporting the unique educational programs that have captivated more than 1/2 million children and parents worldwide for almost 25 years." The exclusive Helen Doron methodology and learning materials embody effective learning through fun, social interaction, self-expression, music and song. "Even in times of economic duress (or maybe because of it), parents the world over are showing us they understand how vital education is for their children."
Anne Gordon, VP Business Development for the Helen Doron Group, also anticipates growth ahead, and comments on how franchising can become a profitable endeavor even in shaky economic times.
"Those who buy a Helen Doron Master Franchise or a Learning Centre Franchise today will have time to build up their centre, ready to meet the economic growth forecasts for 2010 - 2011." Anne continues, "We have witnessed a surge of such forward thinking individuals in the past months, who are eager to buy into established Helen Doron Group franchises." http://www.helendoron.com/business-opportunities.php
The Helen Doron Group, synonymous with quality in pedagogic development, franchising, and support, is currently seeking franchisees to join their international network: people with solid business qualifications, keen to work in educational enrichment -- one of the fastest growing industries worldwide.
To learn more about the exciting Helen Doron Group educational programs available, visit: http://www.helendoron.com, http://www.mathriders.com, http://www.ready-steady-move.com.
Contact the Helen Doron Group: Sue Kolan, Franchise Admin.
TEL: +972-4-902-7901 / FAX: +972-4-999-0543
###