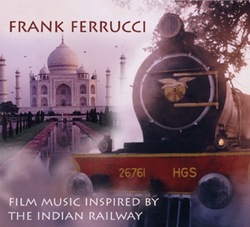 I was inspired by the history and the spirit of the Indian Railway
New York, NY (PRWEB) February 26, 2009
New York, New York -- Notable composer and pianist Frank Ferrucci has released a new album, Film Music Inspired by the Indian Railway. The album evokes a romantic and spiritual journey along the great Indian Railway by combining traditional Indian bansuri, tabla, sitar, and tambura with classic Western instruments, including the French horn, oboe, flute, and piccolo. Inspired by the filmmaking of William Livingston, this cinematic music brings listeners on a journey from Mumbai and Calcutta to the Ganges, through Darjiling and Rajasthan to the Himalayas.
"I was inspired by the history and the spirit of the Indian Railway," says Ferrucci. "I wanted to create music that evokes the feeling of traveling on the rails across this vast, diverse country."
Film director William Livingston approached Ferrucci to write the score for a film he was making for National Geographic™ about India from the perspective of a journey on the Indian Railway. The Indian Railway is one of the largest rail systems in the world, with 7,000 stations and over 40,000 miles of track. It has been the object of admiration and lore since its inception in 1853.
The resulting score for the film, The Great Indian Railway, was the genesis for the music on Ferrucci's latest album. The project had a profound influence on him, and he decided to develop and expand these 18 selections on the album.
"I felt that the score should be a fusion of both Indian and Western music, and to that end I created tonal sculptures and themes that integrate Eastern and Western instruments."
Ferrucci is well-known for continually crossing international cultural boundaries with his music: with his group Criara on Behind the Sky (EMI) where Andean quena, pipes and vocals mix with trip hop grooves, and with his solo albums Jewel Eyes and Music of the Americas Ensemble (Baioca), where he "combines Jazz, Latin, and Brazilian elements into a rhythmically infectious sound" (CODA Magazine). Ferrucci's many film scores also reflect this cultural cross-pollination, as exemplified by Film Music Inspired by the Indian Railway.
There has been much excitement surrounding A.R. Rahman's recent score for the award-winning film, Slumdog Millionaire.  Ferrucci's latest album now adds a unique integration of Indian instrumentation with the vivid imagery of film music.
Ferrucci, an alumnus of Berklee College of Music, played and recorded with Latin Jazz legend Gato Barbieri for many years. Ferrucci continues to compose, perform, and record under the Baioca Records label. In 2009, Baioca will release a CD reissue of Jewel Eyes and previously unreleased recordings of his Music of the Americas Ensemble, which the New York Times described as "fusing the advanced harmonies of 1960's jazz with an array of tropical rhythms, invoking by turns Salsa and Brazilian music."
Musicians performing on this CD are: Mitch Greenberg (bansuri), Amit Chatterjee (sitar, vocals), Gordon Gottlieb (tabla, percussion), Susan Rotholtz (flute), Dianne Lesser (oboe), and Anthony Cecere (French Horn).
Film Music Inspired by the Indian Railway is available on baiocarecords.com, and also on iTunes, Amazon.com, and CDBaby. For more information on Frank Ferrucci and to listen to excerpts from his CDs and film scores, go to frankferrucci.com.
Contact: Karen Seiger
Phone: 212.242.4653
Website: baiocarecords.com
myspace: Frank Ferrucci
###