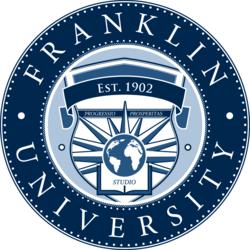 Columbus, OH (PRWEB) March 06, 2013
Franklin University, a leading educator of working adults, is proud to be the recipient of two Merit Awards from the 28th Annual Educational Advertising Awards sponsored by Higher Education Marketing Report.
The University received an award in the Total Ad Campaign category for the Imagine Your Future Campaign which included television commercials, radio spots, print advertisements, and a Facebook tab and contest. Franklin also won an award in the Logo/Letterhead category for its University Seal.
The University is proud to have been considered among more than 1,000 colleges and universities and secondary schools from 50 states and several foreign countries. Nearly 3,000 entries were judged by a national panel of higher education marketers, advertising creative directors, marketing and advertising professionals and the editorial board of Higher Education Marketing Report.
About the Educational Advertising Awards and Higher Education Marketing Report
The Educational Advertising Awards is the largest educational advertising awards competition in the country. The awards are sponsored by Higher Education Marketing Report. Higher Education Marketing Report has been the nation's leading marketing publication for higher education marketing professionals for 28 years. The publication is read by nearly 2,000 higher education marketing professionals.
About Franklin University
Founded in 1902, Franklin University is one of the leading and most experienced educators of adult students. Annually, more than 11,000 students attend Franklin, through its Main Campus in downtown Columbus, Ohio, three Central Ohio locations, regional locations in Beavercreek, Ohio and Indianapolis, as well as at five co-locations across Ohio, in addition to online. Franklin offers more than 40 undergraduate and graduate programs (with four new graduate programs available Winter 2013) and graduates more than 1,500 students annually. The University's MBA program is offered internationally through agreements with institutions in Europe and the Middle East. Further information regarding Franklin University can be found at http://www.franklin.edu.
###