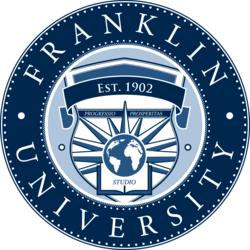 Columbus, OH (PRWEB) March 04, 2013
Franklin University, one of the leading educators of working adults in Central Ohio, is pleased to announce its inaugural Scholarship Forum: From the Classroom to the Field and Beyond: Poster Presentations. The forum will showcase the innovative and important works of students, faculty, alumni, and community partners.
The unique Scholarship Forum will be held on Franklin University's main campus in Alumni Hall's Ross Auditorium on Sept. 25. The first-of-its-kind forum will highlight scholarly contributions from a variety of fields and disciplines.
Community partners, faculty, and students are encouraged to illustrate their work and research in a poster-style session that will disseminate knowledge and discoveries beyond the individual and program in order to benefit the entire university community. Abstract solicitation is currently underway and will run through June 30, 2013.
Faculty and students may submit abstracts of projects, Capstones, or Thesis projects or any research or substantial project in which they analyzed information in a manner that generated synthesized conclusions or hypotheses. Adjuncts, alumni, and other scholarly contributions are highly encouraged regarding program analysis, applications of best-evidence, and research related to their fields of expertise. All presentations must be in poster formats and presenters must be available for comments and questions during the Sept. 25 poster session.
Excellence in several categories will be recognized including, Outstanding Student Submission, Faculty Adjunct Submission, Faculty Submission, and Excellence in Scholarship. Accepted abstracts will appear in a booklet distributed during the event.
For more information, interested participants are encouraged to visit http://www.franklin.edu/scholarship-forum for guidance on abstract writing and poster development, as well as to submit an abstract.
For sponsorship opportunities, please contact Dr. Melissa Popovich at melissa.popovich(at)franklin(dot)edu.
About Franklin University
Founded in 1902, Franklin University is one of the leading and most experienced educators of adult students. Annually, more than 11,000 students attend Franklin, both at its Main Campus in downtown Columbus, Ohio, three Central Ohio locations, and at its location in Indianapolis, in addition to online. Franklin offers more than 40 undergraduate and graduate programs (with four new graduate programs) and graduates more than 1,500 students annually. The University's MBA program is offered internationally through agreements with institutions in Europe and the Middle East. Further information regarding Franklin University can be found at http://www.franklin.edu.
###