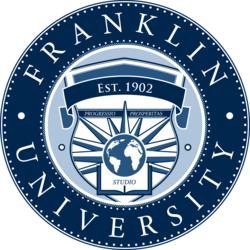 Columbus, OH (PRWEB) March 05, 2013
Franklin University, a leading educator of working adults, is proud to announce it has been awarded a Bronze, Silver, and Gold award as part of the Collegiate Advertising Awards for its 2012 marketing campaigns.
Gold status was awarded in the Logos/Trademarks/Mascots category for the University Seal campaign. Silver status was awarded in the Brochure-Multiple pages category for the Graduate Viewbook campaign. Bronze status was awarded in the TV/Video Advertising/PSA-Single category for the University's Beavercreek, Ohio television commercial (http://bit.ly/Z27sKO)
Awards were issued for entries that received top marks from judges placing Franklin in the top 16% of the nation for advertising excellence. More than 700 entries from the United States and Canada were submitted to the CAA. The panel of design and education marketing professionals judged entries based on creativity, layout and design, typography, production, quality, and overall effectiveness.
About the Collegiate Advertising Awards
The Collegiate Advertising Awards is an elite program designed to recognize the most talented educational marketing professionals for outstanding excellence in all forms of advertising, marketing, and promotion. Gold, Silver, and Bronze certificates are issued by both group and category. The program also recognizes a diverse group of higher education facilities both small and large schools and universities.
About Franklin University
Founded in 1902, Franklin University is one of the leading and most experienced educators of adult students. Annually, more than 11,000 students attend Franklin, through its Main Campus in downtown Columbus, Ohio, three Central Ohio locations, regional locations in Beavercreek, Ohio and Indianapolis, as well as at five co-locations across Ohio, in addition to online. Franklin offers more than 40 undergraduate and graduate programs (with four new graduate programs) and graduates more than 1,500 students annually. The University's MBA program is offered internationally through agreements with institutions in Europe and the Middle East. Further information regarding Franklin University can be found at http://www.franklin.edu.
###