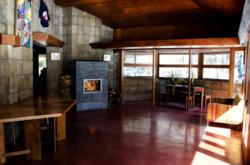 Wright built houses around the hearth, and incorporated innovative ideas, such as specific carpet and table designs, into his houses. I believe he would have included Tulikivi fireplaces into the homes he created if they had been available.
Kalamazoo, Michigan (PRWEB) March 21, 2013
Tulikivi has been selected as the fireplace of choice in the renovation of an original Frank Lloyd Wright designed home. John Meyers, wife Jody and son Joe are the recent owners of the historic Frank Lloyd Wright-designed McCartney House in Kalamazoo. Meyers has already made dozens of improvements to restore the home to its original glory of Wright's vision inside and out. He also made one major complement, and it's one he thinks the visionary architect would have easily approved: the installation of a Valkia Tulikivi fireplace.
This house located in Parkwyn Village (a plat designed by Wright) is considered one of the most imaginative, open and interesting Frank Lloyd Wright plans in the Usonian style. The floor plan is laid out as a four-foot equilateral parallelogram grid. Built in 1951, located on Taliesin Drive, with beautiful views of its acre lot and adjoining parkland, the McCartney home has been a part of Meyers' life since childhood. "I delivered newspapers to Ward and Helen McCartney in the 70's, worked on the exterior for Ward during summers while home from college and continued to help Helen after Ward had passed away," he says.
Today his labor of love includes "undoing" the current landscaping to return it to Wright's sheet #1 Plot Plan, replacing all bathroom fixtures and varnishing all the mahogany walls and trim, fabricating and installing mahogany shelves in the bedrooms according to the original plans and removing curtains and drapes from windows to mesh with Wright's philosophy to "let the outside in."
In selecting ecological warmth for the home, the radiance of Tulikivi's soapstone was a natural fit. "Frank Lloyd Wright practically invented radiant heat," says Meyers, noting that the McCartney house was designed with radiant floor heat included. "Wright built houses around the hearth, and incorporated innovative ideas, such as specific carpet and table designs, into his houses. I believe he would have included Tulikivi fireplaces into the homes he created if they had been available."
Wright's style of "organic architecture" focused on inviting nature indoors, and Meyers believes his wood-burning Tulikivi contributes to that spirit of natural harmony. It was placed in front of the existing, inefficient fireplace opening. "This is the second time I've installed a Tulikivi," adds Meyers. "The performance of the Valkia Tulikivi in my first home convinced me that it was the right choice for this home, as well. If its burned twice a day for one-to-two hours it will provide 50% - 75% of our heat, and keeps our utility bills way down."
Doug Hren, owner of Masonry Heater Design House in Kalamazoo and the installing Tulikivi distributor (http://www.MasonryHeaterDesignHouse.com) also thought the Valkia was the perfect fit for the home. "The opening of the fireplace and horizontal lines really fit into the modular block design of the Wright home," says Hren. "The Tulikivi is also modular with an inner core and exterior shell that is easily adaptable to fit any home design. The large streamline horizontal door is also an attractive feature that complements the space."
While Meyers is currently involved in restoring the bathroom, he does have phase II in sight. Tulikivi recently launched the W10 Heat Absorber Water Heating System that he also believes Frank Lloyd Wright would have put into his plans: "I'm thinking of possibly installing this Tulikivi water heating system to loop into the floors for radiant heat and to heat our domestic water supply."
Tulikivi fits harmoniously into his home. "I'm a Wright purist, so the Tulikivi unit had to work aesthetically for us into the original vision of the home plan. Some people may frown on this but there were zero alterations to the existing structure. We see it as an additional mid-century 'object' that has square clean flat lines. I consider the Tulikivi fireplace as a sculpture inside of a sculpture."
The Tulikivi Group comprises the Tulikivi Corporation, which is a listed family enterprise, and its subsidiaries. The Tulikivi Group is the world's largest manufacturer of heat-retaining fireplaces. Tulikivi has three product groups: Fireplaces, Saunas and Interior & Design. Tulikivi and its customers value wellbeing, interior design and the benefits of bioenergy. Tulikivi's net sales are roughly EUR 60 million, of which exports account for about half. Tulikivi employs over 400 people. For more information about Tulikivi, please visit http://www.tulikivi.com or follow them on Facebook at http://www.facebook.com/Tulikivi. For the nearest distributor, call 800-843-3473.
Look for Tulikivi on Facebook, Pinterest, and Twitter.