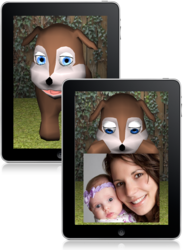 The GeriJoy Companion is backed by our 24/7 team of care staff, so it's the ideal watchdog.
Cambridge, MA (PRWEB) June 13, 2013
Today, GeriJoy announced that it has begun an initiative to incorporate improved supervisory and emergency alert functionalities into its virtual senior companion care services. This initiative was planned in response to an incident in which the GeriJoy Companion saved a customer from elder abuse by a paid caregiver.
Family caregivers who may be concerned about the well-being of their loved ones can sign up for GeriJoy's low-cost 24/7 home companion service on the GeriJoy website. In recognition of World Elder Abuse Awareness Day, GeriJoy declared that all subscriptions started on June 15 will receive a full refund on the first month's service fee.
The GeriJoy Companion has already been touted by organizations like AARP, TEDMED, and the US Senate as one of the most innovative solutions in senior care, in part for its potential to improve seniors' health through therapeutic companionship. The company's recent focus on safety, supervision, and security comes as a response to an incident in April in which a GeriJoy Companion saved a home-bound senior from an abusive paid caregiver. Victor Wang, Founder and CEO of GeriJoy, wrote a post on the company's senior care blog describing the incident as a case study on proactive caregiving supervision to combat elder abuse. The topic quickly attracted the attention of thought leaders in the health and senior care industry, such as HIT Consultant.
Awareness of elder abuse has been gradually increasing, and is currently recognized by experts as a public health crisis. In fact, 2013 is the Year of Elder Abuse Prevention, sponsored by the Administration on Aging. Every year, an estimated 2.1 million Americans experience elder abuse, exploitation, or neglect. Experts believe that for every reported case of elder abuse or neglect, up to five cases go unreported. Through their 24/7 presence, GeriJoy Companions can help detect and act upon these currently unreported cases.
Thus far, GeriJoy's elderly home companion services have focused largely on the emotional health benefits of companionship. Research has demonstrated that loneliness in the elderly is a significant risk factor for depression, Alzheimer's disease, and other functional decline. By reducing loneliness and providing elders with an always-available friend, the GeriJoy Companion provides a range of cost-effective health benefits.
"The GeriJoy Companion is backed by our 24/7 team of care staff, so it's the ideal watchdog," said Wang. "GeriJoy is always learning and improving our services based on how our customers integrate the GeriJoy Companion into their families and their lives. I'm happy to say that since posting the case study on proactive caregiver supervision in April, we've taken steps to improve our detection and response to events such as elder abuse, falls, and other emergencies."
Wang mentioned that a few of the improvements include an updated training program for the staff that operate the virtual companions, increased staffing, and improved software systems. He noted that besides serving as a friend and conversational companion, a key strength of the GeriJoy Companion is that it can provide always-available supervision, actively call out to the elder to check if things are alright, and if things are not alright, intelligently contact caregivers and emergency services.
About GeriJoy
GeriJoy Inc. was founded by MIT researchers Victor Wang and Shuo Deng to improve quality of life for seniors and their families through friendly technology. The GeriJoy Companion, their flagship service, is a virtual pet and companion for the elderly that is backed by GeriJoy's worldwide team of 24/7 care staff. The staff guide the pet's speech to provide elders with the experience of having an always-available conversational companion that can talk with them about family photos and other information from the Internet. Essentially, the GeriJoy Companion is a talking dog that serves as a helpful family member, not only improving mental health for elders but also providing peace of mind for caregivers. GeriJoy has been recognized by organizations like AARP, TEDMED, and the US Senate as a leading innovator in senior care. The company is based in Cambridge, MA, and is backed by investors such as Blueprint Health and Esther Dyson. To find out more, or to order GeriJoy's service for your own family, please visit http://www.GeriJoy.com or email info (at) GeriJoy.com.
About World Elder Abuse Awareness Day
World Elder Abuse Awareness Day was launched worldwide in June of 2006. It was created by the International Network for the Prevention of Elder Abuse and the World Health Organization at the United Nations. The purpose of WEAAD is to provide an opportunity for communities to promote a better understanding of abuse and neglect of older persons.