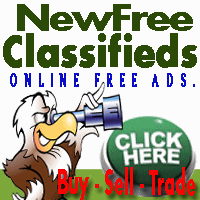 Many websites that offer online free ads are confusing, fee-based, or only target big cities.
(PRWEB) March 05, 2013
People across the country who want to post free classifieds, search for new and used products and services, hunt for full or part time jobs, or connect with others to discuss everything from sports to politics to music and everything in between, can now find everything they're looking for at the new no-cost classifieds website http://www.newfreeclassifieds.com.
People with something to sell, simply register, select the appropriate category, post free classifieds by entering in their item details, upload photos, and get ready to receive offers via the website's messaging system.
On the other hand, people looking to find great deals can browse a variety of categories without registering. When they're ready to make an offer, they simply sign-up, choose their desired category or used the quick or advanced search option, and make an offer via the website's messaging system. They can also choose to receive auto-search notifications by email.
Regardless of whether they're buying or selling, users will be able to target thousands of cities and communities across all 50 states. They will also enjoy a quick, safe and no-risk experience that will have them adding newfreeclassifieds.com to their list of favorite websites.
"Many websites that offer online free ads are confusing, fee-based, or only target big cities," commented a company Lovel Figueroa. "But with us, it takes seconds to zoom in on even the smallest communities, to see who has a great bargain for sale, or to find great local deals. We've done our homework, and invested a huge amount of time, effort and money to ensure that buyers and sellers who visit us have a totally satisfying experience, and make us their no-cost classifieds destination of choice. With thousands of people already using our website, we're clearly on the right track!"
For more information or media inquiries, email info(at)newfreeclassified(dot)com or send a message via the company's website.
About NewFreeClassifieds.com
NewFreeClassifieds.com is an easy-to-use online portal that allows sellers from around the country to simply post classifieds at no cost for a variety of items, ranging from real estate to cars to toys and more. It also allows buyers to hunt for great bargains in their local area, and access a handy auto-search email notification feature. Visitors can also connect to discuss politics, sports, religion, relationships and much more. Learn more at newfreeclassifieds.com