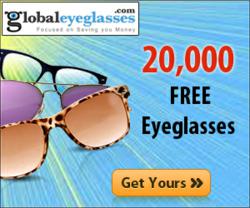 I got my free pair of eyeglasses from GlobalEyeglasses.com and they are perfectly made, I only paid $9.95 for shipping - Amber K. Concepcion
Atlanta, GA (PRWEB) May 02, 2011
GlobalEyeglasses.com has announced it is giving away 20,000 free eyeglasses for first time participants. The internet has changed the way consumers buy eyeglasses, and GlobalEyeglasses.com wants to show how much cheaper and easier it is to buy eyeglasses online. First time users are able to try them risk free with the hope they will love them and spread the word.
GlobalEyeglasses.com guarantees durable and professionally made prescription eyeglasses.
To get free eyeglasses:
1. Go to GlobalEyeglasses.com Facebook Page
2. Like the page
3. Press "Click Here" and a page will open in a new window showing eyeglasses which are free for a limited period of time.
4. Click "BUY" below the eyeglasses you like, and then enter your eyeglasses prescription,
5. Add it to the cart and checkout, the free eyeglasses will be delivered within 14 business days. The only charge is for shipping, which is $9.95 for USA. No coupon code is required.
What is the cost?
Customers pay nothing for eyeglasses with basic single vision prescription lenses. There is a charge for shipping, which ranges from $9.95-$15 depending upon the country, plus any upgrades like bifocals, thin lenses, tinting or anti-reflective coating. Free glasses include the frame, the standard 1.5 index lenses, Hard Optical Case and Cloth.
Access to affordable eyeglasses can make all the difference when money is tight, Arjun Sagar, CEO at GlobalEyeglasses.com, believes that "Prescription eyeglasses or sunglasses should not be out of reach for anyone, most health insurance do not give eyeglasses, even if they do you need to pay more than what you would online."
How do I know which eyeglasses will look good on me?
"Virtual mirror application allows user to see how they look with the eyeglasses online and the refine search lets them find the exact eyeglasses they need, buying eyeglasses is fun and cheap on internet."
How do customers know which size eyeglasses they need?
"Finding the correct size eyeglasses is important; start with measuring the total width of the eyeglasses you wear, up to 129mm is small, 130mm – 139mm is Medium and 140mm to 149mm is Large," says Arjun.
"The free eyeglasses collection has latest bestselling eyeglasses including wayfarer, aviator, plastic, metal alloy, memory titanium".
About the Company
GlobalEyeglasses.com is the online optical shop for prescription eyeglasses bringing accurate vision, quality and style at lower prices. Started in 2005, GlobalEyeglasses.com set out to provide affordable eyeglasses for everyone. Offering large collection of professionally made prescription eyeglasses and Rx sunglasses, GlobalEyeglasses.com is focused on saving your money.
# # #