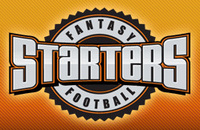 With our position as an industry leader in predictive analysis software for the fantasy sports industry, coupled with the growing popularity of the NFL and fantasy football, we are excited to let every fan use our software to help them win
Phoenix, AZ (PRWEB) May 20, 2008
In an effort to bolster its fantasy sports content, Ready-Set-Go Fantasy Sports LLC (RSGFS) today announced it will make available free fantasy football software for new and existing members for the entire 2008 NFL Season at http://www.fantasyfootballstarters.com.
The announcement comes after the company's newly launched fantasy football mock draft software, rolled out earlier this month to complement the Power Analyzer suite of products that have been helping fantasy football fans win their leagues the past five years. The software comes with a unique feature, "computerized mock draft experts" which can participate in a mock draft.
These computerized mock draft experts, called "FFS Draft Experts", may be used to complete mock drafts when not enough participants have signed up, or fans can compete against them just for fun. FFS Draft Experts have the intelligence to draft a very solid team and challenge any level of expertise. As the season approaches, mock drafts become more popular leading up to actual fantasy football drafts. The software also comes with standard mock draft features like: creating public or private mock drafts, chat features during the draft and incorporating Average Draft Position, known as "ADP" in the fantasy football community. The company is excited about this first to market feature and also preparing the other products for the upcoming fantasy football season.
The Fantasy Football Draft Analyzer is updated and ready for the 2008 NFL Fantasy Football season. Player simulations and the results of the NFL draft are updated in preparation for the next step of the season, which is the NFL Organized Team Activities or "OTAs", which will begin and end during the first few weeks of June. The Draft Analyzer also features on-demand value based draft and personalized "tier rankings." One of the key benefits with all Power Analyzer tools, and particularly the Draft Analyzer, is that you can personalize fantasy football rankings or player projections by incorporating your league's scoring system for that particular roster. Additionally, ADPs from completed Mock Drafts leading up to the 2008 NFL Fantasy Football Draft Season also will be incorporated for use.
The Trade Analyzer is extremely popular during the season. The tool's unique algorithm incorporates personalized scoring system data and provides analysis on any proposed trade by displaying positive or negative impact, broken out by position and every remaining week of the NFL season. By entering the "post trade" players you would have on your fantasy roster, you get personalized analysis on the impact that particular trade has on your overall roster and starting lineup, as well as a final recommendation on whether or not you should accept the trade, via an easy-to-read, color-coded system. The trade analyzer can also be used for accessing any "free agent or any player add or drop" scenario in your league.
The company's most popular software is the Line-Up Analyzer. Over the past four years, not only has the industry's most popular in season fantasy football tool been made available at Fantasy Football Starters.com, but it has also been featured on NFL Players Inc., ESPN Mobile, AOL Sports and Sprint. One of the leading benefits is Line-Up Analyzer predictions are dynamic and updated frequently through out the week by monitoring all NFL teams and players news. This season, look for the return of NFL "Smart Alerts" via e-mail. Smart Alerts give inside info on players to consider adding or dropping to improve your fantasy football roster through out the entire season. Users stay in the know through this cutting-edge football software technology.
"With our position as an industry leader in predictive analysis software for the fantasy sports industry, coupled with the growing popularity of the NFL and fantasy football, we are excited to let every fan use our software to help them win," said Jeff Coruccini, RSGFS Co-Founder.
"Fantasy Football Starters is by far the best free fantasy football software designed to help you win," said Todd Farino, owner of Fantasy Football Search dot com. Visitors to his Web site voted Fantasy Football Starters with the highest user rating (4.56 out of 5) two of the last three years. They were also the top vote-getter on the site in 2007. "One of the key benefits is the software incorporates any fantasy football league's scoring system (i.e. Yahoo!, CBS Sportsline, ESPN) providing on demand fantasy football player and team predictions," Farino added.
Previously, the company employed a paid subscription model; however, with the growing popularity of their site, and accompanying advertising revenues, the company is striving to make their site the Number One fantasy football destination on the Internet. "We have always focused on doing what's best for our members by providing the most accurate player and team predictions possible and extending that through a free fantasy football offering should place us in a unique position for future success," said Coruccini.
Ready-Set-Go Fantasy Sports is a new media content provider based in Phoenix, Arizona. Founded in 2004, RSGFS also delivers fantasy content via licensing agreements with its business partners, including NFL PLAYERS INC., Sprint/Nextel and others.
For more information about Ready-Set-Go Fantasy Sports, visit http://www.rsgfs.com or contact Brady Chatfield at 602-463-0129.
###