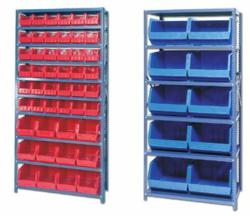 With Quantum Bins - Our Costs Are Less , So We Can Sell For Less!
Boston,MA (PRWEB) March 26, 2013
Quantum Storage Systems is one of A Plus Warehouse's plastic storage bins lines. To encourage more customers to order Quantum Storage bins from A Plus Warehouse, the company is now offering subsidized freight on most stocked Quantum Bins and Bin Systems. The discounted freight program encompasses such popular items as stacking and shelf bins as well as storage bins by Quantum. As with all promotions, availability may well be limited, but A Plus Warehouse hopes to keep the preferential freight program moving as a standard offering. According to Ed Stairman, "In a commodity market, differentiation can be a challenge. With dealers charging freight at 30 percent and higher, free freight is a great value. Our costs are less so we can sell for less."
The subsidized freight comes from a combination of aggressive pricing from truckers that get to leverage volume along with a lower cost structure at A Plus Warehouse. When a dealer works on three sigma and JIT, costs are kept low, and savings can be passed to customers. With low freight, there will certainly be less money made per order, but the value provided to customers should encourage larger orders and repeat orders as well. The freight program will even cover full truckload orders. The only limitation is the actual items offered. Virtually all plastic storage bins are on the discounted freight program, but at the same time virtually all of the storage cabinets made by Quantum are not on the program.
A Plus Warehouse has a deep line of storage cabinets – typically in stock as well. The Quantum subsidized freight plastic bin program forms an acrostic that looks something like this:
Akro Style, Bin units, Clear bins, Divider boxes, Esd bins, Flared top bins, Giant Bins , Hopper bins, Inventory bins, JIT bins…Xylophone bins, Yellow Bins, Zoo Bins. As customers can clearly see , the free freight Quantum bin system has the market covered from A to Z.
A Plus Warehouse is a nationwide materials handling dealer specializing in plastic bins and storage equipment. The call center at A Plus Warehouse is an 'in-sourced' operation, so customers are sure to get helpful representatives on the phone that can help with Quantum storage bins. Customers are encouraged to take advantage of the amazing free freight program at A Plus Warehouse. Customers should feel free to call 800-209-8798 with any questions at all.