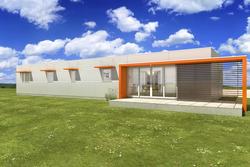 At FreeGreen we hope to encourage progressive building practices by making green home designs free for everyone.
Boston, MA (PRWEB) June 6, 2008
Consumers who once believed "green" to be a status reserved for those in the upper echelon of the housing market can now get green home plans for free.
David Wax, Ben Uyeda and the FreeGreen team are upending the traditional stock house plan business model. They are bringing their green plans to the masses by charging exactly what most builders and clients are willing to pay for house designs: nothing.
In the home design industry, good design is hard to come by. The majority of the 200 web sites offers the usual colonial and ranch style designs, provide consumers with shabby construction documents and charge $750 - $2,000 dollars per plan.
FreeGreen wants to change this. They offer modern green designs, detailed construction documents, 3D computer generated renderings, and a slew of other features traditional sites choose to skimp out on.
To generate revenue, FreeGreen will charge green product vendors, retailers, and other home building firms a slotting/performance fee for specifying their products and services in the home plans.
In the building of a green home, the selection of green materials and efficient mechanical systems is of equal importance--not only for the design, but to achieve the desired performance of the home and applicable green certifications.
David Wax, CEO of FreeGreen Inc., explains that, "Selecting these products can be an overwhelming task and an experienced green architect is not an option for most consumers."
FreeGreen allows builders and homeowners to select and customize home plans in a well organized online experience. Based upon user selections, a large-format PDF of buildable architectural documents, product lists, and local contractors is compiled and provided free for download.
Chief Architectural Officer, Ben Uyeda says, "We encourage users to submit feedback on the FreeGreen Blog and even submit design ideas. Our team is working towards providing an open source platform that will allow the site's online catalogue to grow exponentially."
TreeHugger writer Lloyd Alter is excited about the new site.
"Architects can't make money doing one-off houses and most people aren't willing to pay for it, or don't even value it. The traditional model is broken, so why not market architecture like software or blogs and give it away, making money from the ads? Finally there is a model where somebody looks forward to helping you [architects and designers] get the exposure and revenue you deserve."
There are three designs currently available for download in modern and traditional styles. Uyeda is promising at least one new plan month.
FreeGreen's initial launch produced 1,500 registered users and 2,000 free house plan downloads. Its instant success stemmed from the viral nature in which word of the company and its free and high quality plans spread through the blogosphere on sites such as Inhabitat, Treehugger and SpringWise.
About FreeGreen Inc.
FreeGreen was co-founded by five principals as a spin-off from their first startup, Zero Energy Design (a leading high-end custom green home architecture firm). FreeGreen launched its site on April 1st, 2008. In addition to its free stock plans, FreeGreen also offers design customization and consultation.
"At FreeGreen we hope to encourage progressive building practices by making green home designs free for everyone."
###