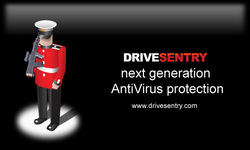 Computing without antivirus protection in this day and age is not an option.
Mountain View, CA (PRWEB) July 2, 2008
Security specialists DriveSentry today announced the release of a free security software for home users - Combining Antivirus, Antispyware and HIPS technologies to provide zero day, real time identity and PC security.
We are all aware of the security implications of posting too much personal information on social networking sites such as Facebook and MySpace but the more sensitive personal information held on our local drives is just as vulnerable. DriveSentry Free is released at a time where incidents of identity theft and data encrypted blackmail are drastically increasing and becoming a normal risk associated with surfing the Internet. The latest variant of GPcode.AK that is currently spreading across the Internet is a prime example of the threats posed by malicious programs. GPcode.AK is a ransom-ware virus which, if successful, will encrypt your data, making personal data useless until a "ransom" payment is made to decrypt files. It is important that we put adequate protections in place to prevent becoming a victim of such cases of fraud and id theft, especially at a time when we are all facing some tough economic choices.
As traditional antivirus products struggle to cope with issues raised by their aging technologies, we face difficult decisions regarding how to secure ourselves from increasing threats to our identity and PC security. Many of us feel that if the criminal trojans and viruses do not get hold of our hard earned cash, then this is due to antivirus software companies, who in theory receive the money instead through annual renewal fees. So the question remains - how can we secure our identity and PC security without paying monthly or annual fees?
The latest version of antivirus software DriveSentry provides free, up-to-the second protection, which adopts a simple approach to securing your system and data. DriveSentry is dedicated to protecting your identity and PC security from viruses, Trojans, spyware, adware and many other variants of malicious code including tracking threats; many of which threaten to compromise your personal information. DriveSentry safeguards against all these zero-day threats by automatically allowing access to whitelisted applications, blocking over one million known threats and querying the unknown.
DriveSentry's database of black and whitelisted program identities are downloaded and stored on your PC to enable automated offline protection. Using the free version of DriveSentry you will be alerted when a signature update is available. "DriveSentry have also introduced hassle free, 'tricklefeed' technology, which provides real time, automatic signature updates", explains Mike Quinn, Director of Product Marketing. "There is no longer any delay in the distribution of known viruses as DriveSentry "tricklefeed" ensures that your local signature database is constantly up-to-date with no need for annual license renewal".
"With a new virus, like the recent GPcode.AK, being distributed every 2 seconds on average, it is incredibly important that people protect their personal information and data from the latest viruses, reducing the potential risk of identity theft or online blackmail" added John Safa, CTO of DriveSentry. He continued "Computing without antivirus protection in this day and age is not an option."
Don't leave your system and data open to attack. Download DriveSentry, now available absolutely free, from
http://www.drivesentry.com
###