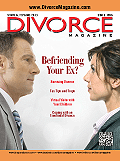 Toronto, Ontario (PRWEB) February 28, 2013
For the first time since 1996, Divorce Magazine is available for free download at the magazine's website. The Winter/Spring 2013 Divorce Magazine has expanded its number of regional editions that offer advice and information from local divorce professionals.
"We are thrilled to be able to offer Divorce Magazine for free online to our one million visitors and provide local and highly relevant information divorcing people need," says Dan Couvrette, Publisher of Divorce Magazine.
Befriending Your Ex?
This issue of Divorce Magazine looks at how friendship between exes can, and does, work and the positive benefits on both the wellbeing of those involved and their children.
"It's a common belief that couples who have been through a divorce will always be at odds, and even hate each other, for the rest of their lives," says Martha Chan, Editorial Director of Divorce Magazine. "However, we want to show this doesn't have to be the case."
This latest issue also features articles on how to make it through a difficult divorce. In regards to the wellbeing of children of divorce, the issue takes a fascinating look into how to keep in touch with them virtually, it also features a short video on how to make and send a video to them using an iPhone.
Divorce Magazine's Winter/Spring 2013 issue has a range of topical and timely articles, tips and resources for divorcing individuals at all stages of the process, including:

How to cope with an emotional divorce
Information on pensions and QDROs
Tax tips and traps related to your divorce finance
FAQs provided by experienced family lawyers and other divorce experts
A list of local divorce professionals, including family lawyers, therapists, mediators, financial advisors, and more.
A Contest for the Most Inspiring Divorce Stories, Art and Creation
In this issue Divorce Magazine invites you to enter a contest for the Most Inspiring Divorce Stories, Art and Creation. Divorce Magazine is looking for people who are handling or who have handled their divorce in a creative or inspirational manner. Stories, paintings, and even videos are all acceptable entries as long as they pertain to the healing process of divorce. The contest ends on May 31st, 2013, and the 5 winners will receive the cartoon book Flying Solo: a Colorful Glimpse at Being Single Again! and have their winning entry featured on http://www.DivorceMagazine.com and/or in Divorce Magazine.
The Winter/Spring 2013 issue of Divorce Magazine is available now in multiple regional editions as a free download here.
Additionally, Divorce Magazine's online knowledge center, located at http://www.DivorceMagazine.com, contains thousands of divorce-related articles, divorce news items, divorce polls, a divorce discussion forum, a divorce blog, information on local divorce professionals, and other divorce resources. No registration is required.
About Divorce Magazine
Launched in 1996, Divorce Magazine is North America's only magazine devoted entirely to divorce. The magazine is published twice a year with multiple regional editions, and is full of helpful articles as well as guides to local divorce professionals.
The website http://www.DivorceMagazine.com has been a leading divorce-related source since 1996. The company also operates http://www.BlogsOnDivorce.com, which features expert opinion and insight from leading divorce professionals, and http://www.FamilyLawyerMagazine.com, which is dedicated to helping family lawyers excel in their practice and live a balanced life.
For more information, contact publisher and CEO, Dan Couvrette at 1 866 803 6667 ext. 124, or by email: DanC(at)divorcemag(dot)com