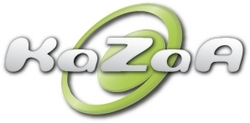 While these are not the best of economic times we have every confidence that our marketing and affinity with our customers will have us punching well above our weight in the market
Los Angeles, CA (PRWEB) July 20, 2009
Kazaa has been jolted back into life as a legal digital music service in the United States as a result of Altnet's decision to reboot the Kazaa brand at http://www.kazaa.com.
As one of the most powerful brands in the digital content space and with enduring global customer recognition, Altnet seized the opportunity to launch Kazaa into the licensed market via its long standing joint venture agreement.
Kazaa will serve customers across the United States with its initial offer of music and ringtones available via subscription.
The major record companies, Universal Music Group, Sony Music Entertainment, Warner Music Group and EMI, together with a number of independent labels, have entered into agreements to provide content so that Altnet can deliver digital music to consumers in the United States under the Altnet and Kazaa brands. The catalog and customer offering at commencement exceeds Millions of tracks allowing music downloads across all genres and generations right up to today's' Top 100.
Kevin Bermeister, CEO said, 'We are delighted to be able to deliver a fresh and exciting music platform to customers via an established icon like Kazaa".
The re-launch of Kazaa represents more than just another beachhead in Altnet's journey to deliver digital content to consumers around the world. As a significant investment in an already highly competitive on-line market, it represents our confidence, not only in the market but in its ability to engage customers and overtake its competitors.
"While these are not the best of economic times we have every confidence that our marketing and affinity with our customers will have us punching well above our weight in the market" ,said Kevin Bermeister.
Kazaa expects a steady growth in its customer numbers but prefers to let its results do the talking so stay tuned for our next press release.
For interviews with Kevin Bermeister contact:
Michael Speck 61 437437194
About Altnet
Altnet, Inc. a subsidiary of Brilliant Digital Entertainment is a leading provider of major label, licensed music subscription services at http://www.altnet.com and http://www.kazaa.com. It also offers online anti-piracy solutions and customer conversion platforms through its Global File Registry (GFR) product, an industry endorsed, anti-piracy solution for the identification and removal of infringing content and replacement with licensed content through its patented Search and Replace technology.
###