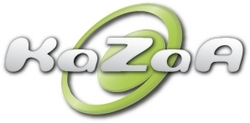 Even though this is a simple idea, it overall enhances the service offered to customers
Studio City, CA (PRWEB) October 2, 2009
Kazaa announced today the super-sizing of the company's current search banner width. Subscribers will now have access to a more comprehensive tool that will assist in the locating of music files and individual song lyrics.
With the new upgrade, Kazaa is making good on the initial promise to keep rolling out a superior and adaptable download music service. Are such minimal advances now necessary in what is fast becoming the battle of the upgrade between industry heavyweights? The company Search Manager Emanuel Krassenstein explained the reasons and the benefits of the latest release, "Even though this is a simple idea, it overall enhances the service offered to customers".
Why has the company invested so heavily in minimal features? Krassenstein stated, "Even though this is a simple idea it overall enhances the product offered to customers. With millions of music search terms on offer, the ability to maximize the accessibility of files and lyrics to subscribers is paramount with this release".
History is the ultimate indicator of the success of conceptual ideas. Only time will tell if the micro-release will become standard business practice. If so, companies will no longer rest on laurels and reputation as in previous decades but become what Darwinist's extol, an ever changing life form adapting to the changes of its environment. Is there ever an end point in the development of a service? Emanuel said regarding the R & D of Kazaa,"Search capability should be a priority of a dedicated on-line music provider".
When will Kazaa become a finalized product? Emanuel answered saying "Kazaa is an organism that is constantly evolving there is no foreseeable end to our progress; currently the development team is working around the clock to make integral improvements to the usability of the site. Our research indicated that search capability should be a priority of a dedicated on-line music provider".
Emanuel explained by giving insight into company research that takes place, "Consumer feedback has been highly beneficial in correlation with the intensive studies of the sites' navigational capabilities. With the growth of online services, comes a greater customer expectation. By failing to make life easier for the user the company's web-life will cease. The current mission is to build a firm foundation with customer satisfaction as its cornerstone; this will help avoid calamities."
Kazaa is a subscription-based service brought to you by Brilliant Digital Entertainment (BDE) a leading online distributor of licensed digital content. BDE provides the means for record labels, film studios and software developers to market and sell their products to a worldwide audience of 70 million users. Kazaa offers unlimited access to hundreds of thousands of CD-quality tracks for one low monthly fee of $19.98 per month.
# # #