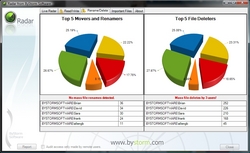 Software that works for you.
Magnolia, TX (PRWEB) December 5, 2008
ByStorm Software announces the immediate availability of Radar, a free file use monitor for Windows Administrators. Radar shows real-time file activity, provides "Top 5" analytical charts, and monitors critical files.
With the real-time console in Radar, administrators can identify who is using a file server, find people copying large numbers of music files to their home directory, and track failed security access attempts. "Top 5" charts analyze real time data, enabling users to discover people who are deleting, reading, writing, or renaming large numbers of files -- frequently questionable activities. Radar critical file monitoring will track all users of important files, for example identifying who has opened a bonus calculation spreadsheet.
Installed and running in seconds, Radar works without requiring native Windows auditing to be enabled.
Learn more about Radar and select immediate download from Radar product information.
About ByStorm Software
ByStorm Software was founded in 2003 and focuses on delivering "Software that works for you." For more information please visit ByStorm Software.
###