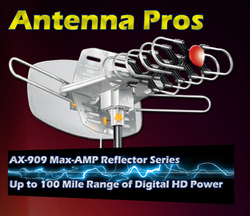 We were able to pick up San Diego stations all the way from Los Angeles. We even picked up 4 Chinese stations and several Spanish stations.
Florissant, MO (PRWEB) July 7, 2010
Antenna Pros introduces three long range digital outdoor hd tv antennas with remote controlled rotation called the Reflector Series. These antennas use the latest technology to give users a powerful high gain antenna that is small enough to fit in your attic. The model numbers for these long range Reflector Series antennas are the AX-903, AX-906, and AX-909. All three antennas have the same power and features, but they look slightly different. The reason Antenna Pros made three different models is to give the consumer a choice in the look and feel of their DTV antenna.
Many Americans are looking for ways to save money. One way to save is by removing monthly expenses on cable or satellite television. Cable or satellite TV subscriptions can cost from $360 per year or more. A one-time investment of around $70 on one of the Antenna Pros digital antennas is all you would need to enjoy free digital programming. When you compare $360 or more per year versus a one-time investment of $70, it is obvious which option would save the most money. Some over the air broadcast stations that can be enjoyed for free using the Antenna Pros antennas include local television stations such as CBS, NBC, ABC, PBS, Fox, and more.
In addition to saving money, the Antenna Pros antennas also provide the consumer with a clearer picture than satellite TV or cable. Satellite TV and cable signals are compressed before they are sent to your home. Over the air signals that are picked up by the Antenna Pros antennas are not compressed and go straight to your TV so you can enjoy the clearest uncompressed high definition picture possible on your TV.
The reflector dish on the Antenna Pros antennas are an upgrade over the older versions because the reflector dish is able to help focus the signals and make them more stable. This is a feature that has not been offered before in the compact long range digital antenna market. This innovation was inspired by Antenna Pros desire to continually improve their antennas and offer the latest technology available to their customers.
All three Antenna Pros models feature a remote controlled motor at the base of the antenna that the user can control from inside the house. The antenna comes with 30' of RG6 coaxial cable that connects from the antenna to the control unit which would be placed next to the television. The motor gets its power to rotate the antenna through the control unit. The control unit has a rotate button that can be pressed to rotate the antenna. The control unit also has an on off switch which turns the high gain booster on or off.
These outdoor hdtv antennas will support multiple TV sets. The control box has 2 TV outputs, and with a simple splitter you can add up to 8 TVs. Almost no other antenna on the market has this feature.
These outdoor hd tv antennas will pick up both analog and digital broadcasts. These high definition antennas are made for the new digital broadcasts because it has a higher UHF gain and most of the high definition broadcasts over UHF. A digital converter box is necessary for analog TVs. These antennas can pick up Chinese, Spanish and other over the air stations in Los Angeles and surrounding areas. According to Kerry, a spokesperson for Antenna Pros, "We were able to pick up San Diego stations all the way from Los Angeles. We even picked up 4 Chinese stations and several Spanish stations."
The Antenna Pros outdoor hd tv antenna with motor rotor is ideal for people who live in rural areas because it is very powerful and has the Max-Amp technology which used an additional reflector dish to amplify the signal in addition to the built in high gain amplifier. The beauty of this design is that you can remove the reflector dish if you are too close to the tower and wish to reduce your gain. Sometimes too much gain is not a good thing so having the option to remove the reflector dish could help you get better reception if you are not that far from the broadcast stations.
People who live in extreme winter areas or areas with high winds may install these DTV antennas inside attics or other areas around the home. These antennas will work at camp sites, boat houses, cabins, RVs, campers and just about anywhere that you would be able to mount it. These antennas are small and compact so they can be easily mounted and transported.
# # #