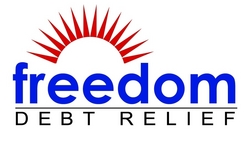 There are companies out there who can help consumers, but the current lack of information and consumers' concern about being mistreated can prevent people from receiving the help they need.
San Mateo, CA (Vocus) January 26, 2010
That many Americans continue to struggle with mounting debt is an established fact. Adding to the problem is that many who need help – but who are not knowledgeable about their options to handle their debt – are vulnerable.
Freedom Debt Relief, LLC (FDR) recently surveyed consumers who were seeking debt relief options to better understand the forces that cause people to consider debt settlement help, and to be sure the industry is responsive to the risks facing consumers struggling with unmanageable debt. The survey revealed that consumers are seeking a trusted ally and advocate to help them understand and resolve debt, but often are ill-informed about their options.
"It is a finding that concerns us," said Andrew Housser, co-founder and CEO of FDR. "We need to help consumers understand their debt relief and resolution options (debt settlement, credit counseling, debt consolidation), choose the type that is best-suited for them, and then identify credible businesses so that they can resolve their debt and get on with the business of their lives."
When consumers with severe debt do not enlist help, Housser said, the survey showed that their problems only worsen. Of those who did not enlist help, almost 90 percent are continuing to fall behind on their payments, or are managing to make payments, but know they soon will fall behind.
The 1,000 survey respondents overwhelmingly named trust as a key factor in looking for help to resolve debt, with 40 percent naming "a company I trust" as the most important factor they sought. That trust is all the more important when considered in light of consumers' knowledge about resolving debt. Only 8.5 percent of the respondents, when contacting FDR for the first time, said they knew exactly what they were looking for. In contrast, more than 38 percent responded, "I didn't know anything, I just needed help," and more than 29 percent responded that they knew only "a little" about their options.
"These questions illustrate that people are vulnerable in an industry that can be confusing and which some have considered suspect when it comes to working with consumer finances," explained Housser. "There are companies out there who can help consumers, but the current lack of information and consumers' concern about being mistreated can prevent people from receiving the help they need."
FDR, an active member of the industry group The Association of Settlement Companies (TASC), will use the data it collected to assist in its continuing efforts to work toward industry regulation. "The goal of FDR, as a consumer advocate, is to lead the way toward appropriate regulation of the debt settlement industry," said Housser. "We strongly believe that Americans have the right to appropriate support in resolving debt and embarking on the journey to right their financial situations."
About Freedom Debt Relief (http://www.freedomdebtrelief.com)
Freedom Debt Relief provides consumer debt settlement services. Working for the consumer to negotiate with creditors and lower principal balances due, the company has served more than 70,000 clients since 2002. Freedom Debt Relief is a wholly owned subsidiary of Freedom Financial Network, LLC (FFN).
Based in San Mateo, Calif., FFN also operates offices in Sacramento and Tempe, Ariz. The company, with 580 employees, was voted one of the best places to work in both the San Francisco Bay Area and the Phoenix area in 2008 and 2009. Company co-founders and co-CEOs Andrew Housser and Brad Stroh were named to the Silicon Valley/San Jose Business Journal's "40 Under 40" list in 2008, and are recipients of the Northern California Ernst & Young 2008 Entrepreneur of the Year Award.
###