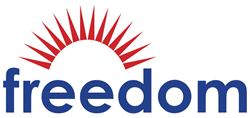 Employees love working at Freedom Financial Network and take great pride in the culture we've built to serve our customers.
Tempe, Ariz. (PRWEB) June 15, 2017
Freedom Financial Network (FFN) has announced plans to move to a new 300,000-square-foot office campus at 2100 E. Rio Salado Parkway in Tempe to accommodate explosive growth in the Phoenix market.
The financial services company is expanding with a build-to-suit lease at Rio2100, a 52-acre mixed-use development. Occupying two four-story buildings, the new offices will provide almost 33 percent more space than FFN's present operations, and on one campus, according to Kevin Gallegos, vice president of Phoenix operations. Employees will begin work in the first building in April 2018, and in the second in April 2019. Currently, FFN leases 210,000 square feet of office space across four buildings near I-10 and Baseline in Tempe.
"The Phoenix market has proven to be an exceptional base for FFN's rapid growth," says Gallegos. "As the company continues to expand its services and client base, the ability to accommodate staff growth, and include all employees on one campus, will be a tremendous asset."
Career hiring event: June 22
FFN opened its office in Tempe in April 2006 with six employees. Today, it employs more than 1,500. In January, the company announced plans to hire nearly 1,000 additional employees in Tempe this year, and has hired 442 to date.
The company will hold a career fair Thursday, June 22, 3-6 p.m., at its office at 4625 S. Wendler Drive. Hiring managers will be looking to fill customer service, negotiations, loan servicing and underwriting positions. Job seekers should arrive with resumes and be prepared to interview that day, says Gallegos. No advance notice or reservations are required.
"Employees love working at Freedom Financial Network and take great pride in the culture we've built to serve our customers," says Linda Luman, vice president of human resources. She emphasizes that FFN hires people who can focus on both the company's mission and community engagement. Activities in the Tempe office include monthly wellness events for employees, a company-sponsored "Freedom Fund" that provides grants to employees who have financial hardships, and a "Sunshine Committee" that focuses on helping both employees and the local community.
"Our focus is building on the solid foundation and culture we've established in Tempe," says Luman. "It's really exciting to reflect that culture in the new campus as we continue building for the future."
For nine years, the Phoenix Business Journal has designated FFN's Tempe office as one of Phoenix's best for employees. In 2016, the company ranked No. 1 in the Extra-Large category of the publication's Best Places to Work awards program.
Freedom Financial Network (http://www.freedomfinancialnetwork.com)
Freedom Financial Network, LLC (FFN), is a family of companies providing innovative solutions that empower people to live healthier financial lives. For people struggling with debt, Freedom Debt Relief offers a custom program to significantly reduce and resolve what they owe more quickly than they could on their own. FreedomPlus tailors personal loans to each borrower with a level of customer service unmatched in the industry. Bills.com helps homeowners better understand their loan options and make smarter mortgage decisions.
Headquartered in San Mateo, California, FFN also operates an office in Tempe, Arizona, and employs more than 1,700. The company has been voted one of the best places to work in both the San Francisco Bay area and the Phoenix area for several years.