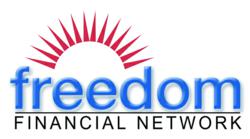 In terms of consumer debt, we view the declining debt ratio as a good sign of the care consumers are taking with their budgets
San Mateo, Calif. (PRWEB) March 19, 2013
The overall picture for consumers generally improved over the past quarter, although employment remains sluggish and non-revolving debt raises questions, according to the Freedom Financial Network Quarterly Comment on consumer debt and credit issues.
"In terms of consumer debt, we view the declining debt ratio as a good sign of the care consumers are taking with their budgets," said Kevin Gallegos, vice president of Phoenix operations for Freedom Financial Network (FFN). "This indicates that consumers are less likely to spend beyond their means – perhaps having learned a hard lesson over the last decade," he explained. "The increases in non-revolving debt and continuing unemployment levels do raise questions, however, about whether consumers are racking up unmanageable levels of educational and vehicle loan debt." Non-revolving consumer debt includes auto and RV loans, and education loans.
The most recent financial data released by national sources indicate that consumers did not embark on a trajectory of higher debt after the holidays. More people are looking for work, even as the number of unemployed has declined slightly. And among those who are employed, income is down in 2013 due to the expiration of the "payroll tax holiday," which temporarily reduced Social Security withholdings for two years.
"Time will tell whether workers' trimmed-down paychecks, after the expiring tax holiday, cause them to go into greater personal debt," added Andrew Housser, FFN co-founder and CEO.
Recent financial data as reported:
1. Total consumer debt rising, but lower compared to income. After a dip in November, total consumer debt continued to rise in December and January, the most recent data available. In January, total consumer debt (excluding mortgage debt) increased to $2.795 trillion. On the other hand, the ratio of debt payments to the ratio of income available for consumers has continued to fall, and is now at the lowest level since 1983.
2. Revolving debt continues to fluctuate. Total consumer revolving debt, which includes credit card debt, has continued its up-and-down pattern, with little change over the past year. The total amount rose in November – perhaps attributable to early holiday shopping – but has declined again in December and January. At the end of January, it stood at $850.9 billion.
3. Non-revolving credit continues to grow. Non-revolving consumer debt – which includes auto and RV loans and education loans – has continued an upward trend, reaching a new all-time high of $1.944 trillion in January. Annual growth in non-revolving credit rose to 10 percent in January.
4. Personal income drops. In January (the most recent data available), personal income fell by 3.6 percent, and disposable personal income dropped 4.0 percent, the Bureau of Economic Analysis (BEA) reports. These decreases completely cancel out equivalent increases in November and December. The BEA attributes the large decrease to increased contributions for government social insurance – i.e., the removal of the "payroll tax holiday" that boosted take-home salaries the last two years. As well, the BEA release cautions that personal income was artificially high in December as companies paid out bonuses early in advance of higher personal income tax rates beginning in January 2013.
5. Spending stays relatively steady. In January, personal consumption expenditures rose by just 0.2 percent. Likewise in December, spending was modest, increasing just 0.1 percent over the prior year.
6. Number of unemployed decreases. The U.S. Bureau of Labor Statistics reports an unemployment rate of 7.7 percent for February. This number has reached the same level over the past few months. What is changing now, however, is that the number of people who are unemployed has decreased to near 12 million, compared to 13.4 million unemployed people in February 2012. This may indicate that a greater number of discouraged workers are looking for -- and finding -- work. The number of people who are underemployed remains essentially unchanged. Perhaps most positively, the number of unemployed people who say they want a job rose in February for the first time since November, indicating a bit more optimism among the unemployed and underemployed.
The FFN Quarterly Comment pulls together significant statistical releases and provides quarterly comment on timely debt and credit issues that matter to consumers. To schedule an interview with Kevin Gallegos or Andrew Housser, contact Aimee Bennett at 303-843-9840 or aimee@faganbusinesscommunications.com.
Freedom Financial Network (http://www.freedomfinancialnetwork.com)
Freedom Financial Network, LLC (FFN), provides comprehensive consumer credit advocacy services. Through its Freedom Debt Relief, Freedom Tax Relief and ConsolidationPlus products, FFN works as an independent advocate to provide comprehensive financial solutions, including debt settlement, debt resolution and tax resolution services for consumers struggling with debt. The company, which has resolved more than $2 billion in debt for more than 150,000 clients since 2002, is an accredited member of the American Fair Credit Council, and a platinum member of the International Association of Professional Debt Arbitrators. The company holds the Goldline Research Preferred Provider certification for excellence among debt relief companies.
Based in San Mateo, Calif., FFN also operates an office in Tempe, Ariz. The company, with more than 550 employees, was voted one of the best places to work in the San Francisco Bay area in 2008, 2009 and 2012, and in the Phoenix area in 2008, 2009, 2010, 2012 and 2013. FFN's founders received the Northern California Ernst & Young Entrepreneur of the Year Award in 2008.
(end)